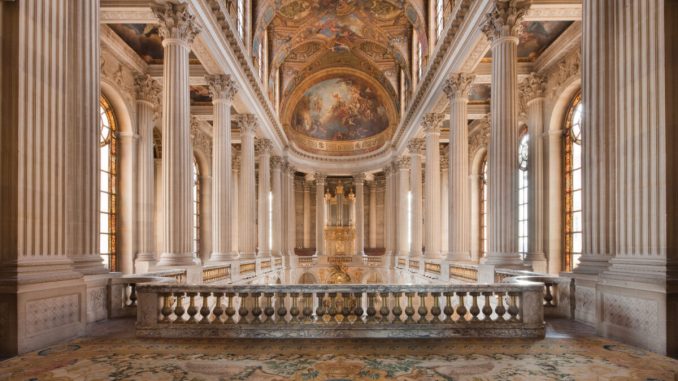 A renewed sense of grandeur has returned to the Royal Chapel at Versailles, after a three-year restoration project.
In the 17th century, the Sun King, Louis XIV, personally directed the creation of this grand chapel. In doing so, he established a conduit between the heavens, the French monarchy, and hence the people of France for generations to come.
In 1687, the king's architect Jules Hardouin-Mansart began work on the chapel, and after he died, the building was completed in 1710 by his brother-in-law, the architect Robert de Cotte.
The chapel stands taller than the surrounding palace buildings, reminding everyone that the divine rules even the king. 
The main walls, ornamented with Corinthian pilasters (architectural façade features that give the appearance of columns), form the body of the building and support the upper level, which is lined by a balustrade and 30 statues. Sixteen different sculptors carved these statues, depicting Christian figures or allegories of Christian virtues—all to inspire man.
Behind the statues, Gothic-style buttresses, topped with eternal torches, arch upward to the heavens. The buttresses support the steep, hipped slate roof typically seen in French architecture. And touches of gold leaf highlight the ornate leadwork on the chapel roof.
Sunlight pours into the chapel through large Gothic-style windows that are a combination of clear and stained glass.
Inside the chapel, the soft vertical lines of the arches and columns gently allure the eye, leading one's attention from the chapel floor through the mid-level columns, before settling on the spectacular vaulted ceiling covered with paintings portraying the Holy Trinity. 
To find out more about the restoration of the Royal Chapel at the Château de Versailles, visit ChateauVersailles.fr