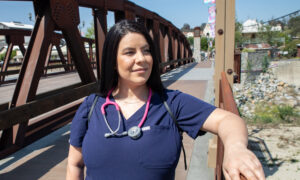 When 34-year-old Brittney went into labor on April 7, she faced a tough decision: take a required random drug test, or go to the hospital and jeopardize her nursing career.
Brittney (a pseudonym) was on probation in the California Board of Registered Nurses' (BRN) Enforcement Program for a previous driving under the influence (DUI) offense—and if she failed to complete one test, she could permanently lose her nursing license.
Since enrolling in the program, Brittney had complied with a list of 19 conditions as part of her accreditation, including random drug tests. Probationers have no control over the location of the test, must pay for each test out-of-pocket, and have to submit as many as three per week.
At the same time Brittney went into labor, she was selected for a drug test in Calimesa, about 25 minutes from the hospital. Overwhelmed, she contacted her probation officer.
"She basically texted me back and told me that this is a violation," Brittney told The Epoch Times. "She didn't even acknowledge the labor part; she just said, 'This is a violation. You need to get it done.'
"I probably could have just went straight to the hospital, but … I was scared. I felt like I had to do it. I'm gonna lose my job."
By the time Brittney took the blood test—at a cost of $110—and rushed to the hospital, she was so close to giving birth that she was no longer eligible to receive an epidural shot to kill the pain.
"It was just painful. I felt everything," she said. "It was something that was supposed to be really joyous, [but] I felt humiliated and ashamed—like something was just taken away from me."
The experience prompted her to call for changes to the way pregnant nurses are treated by the BRN, and attracted the attention of regional lawmakers.
Unchecked Power
Stories like Brittney's are common among nurses who become ensnared in the BRN's probation program as a result of drug- or alcohol-related crimes.
"I worry for the day I am called to drug test while in active labor," Joei Bianca, who is currently in her third trimester, told The Epoch Times. "I worry about the gory, degrading, and humiliating experiences that lie ahead for me. … Where does the power of the BRN end?"
In 2008, when she was 18, Bianca was arrested at a drive-thru for DUI. The charges were eventually dismissed when video footage from the scene proved she wasn't the driver, but within a year, Bianca became homeless and began using heroin.
In 2009, she was charged for being under the influence of a controlled substance; later that year, she was arrested for petty theft after stealing a box of cereal at a supermarket. Five days later, she was charged with heroin possession.
It took nearly a decade for Bianca to turn her life around.
After graduating from the nursing program at Mt. San Jacinto College in 2019, she applied to the BRN for her license, with a packet that included 40 letters of recommendation, six months worth of third-party drug testing, a certificate of rehabilitation from past drug charges, verification of rehabilitation completion, proof all drug charges had been expunged, documentation of 135 hours of community service, and performance evaluations from her supervisor at Hemet Valley Medical Center, where she worked for over four years.
The Board had warned Bianca: if she didn't disclose all relevant information about her background, she risked losing her license for good. When Bianca offered details of her 2008 arrest, the BRN put her on probation.
Her lawyer asked the Board why they were citing a charge that doesn't appear on Bianca's record.
"The Board said that they couldn't unsee it," Bianca said. "If I hadn't disclosed it, and they had found out about it, I risked losing my license forever. So it's kind of a catch-22."
Michelle M. Cave, the public information officer for the BRN's Department of Consumer Affairs, told The Epoch Times that all individuals are evaluated on a "case-by-case basis."
"In general, the BRN has authority to assert various causes for discipline against licensees, including for unprofessional conduct," Cave said via email.
"In instances where an individual has an arrest that does not result in a conviction, the Board may consider whether the acts underlying the conduct that was the subject of the arrest were in violation of the Board's statutes and regulations."
'How Much More Do I Need to Do?'
Assembly Bill 2138 (AB 2138) prohibits the BRN from placing new licensees on probation for nonviolent convictions more than seven years old. The bill was signed into law in 2018, but did not go into effect until July 2020—a year after Bianca submitted her application.
Bianca was informed she could not be grandfathered into the new law, and would have to serve a full probationary period of three years.
The cost of compliance, she estimates, runs upward of $700 per month. All the while, she must maintain active employment as a registered nurse and acquire monthly performance evaluations to submit to her probation monitor.
Though she found the situation stressful, Bianca said "everything was manageable"—until the urgent care centers where she's required to drug test began operating on limited hours.
"This was bad news for me, because my work schedule as a COVID nurse was 7 a.m. to 7:30 p.m.," she said. When selected for a drug test, it would cut into her shift during a time when they were severely short-staffed, she added.
In February—two months after she learned she was pregnant—she contracted COVID on the job. She didn't come back to work until March 1. The following day, she was selected for a drug test during her shift.
"That was the last straw for my employer. On March 9, after fighting for my patients' lives all through the pandemic, I was let go from my job … because the BRN was not willing to make accommodations for probationary nurses working [during] COVID."
Cave said there were other options available. "There are hundreds of test sites across California, and many with extended hours to allow an RN flexibility with their testing schedule," she said.
Five months into her pregnancy, Bianca found herself unemployed—but was still required to follow all the stipulations of her probation. Now, she fears her future employment prospects are grim.
"The BRN states that their job is to protect the public, but their measures are far more punitive for someone like me rather than having the best interest of the public," she said.
"How much more do I need to do to prove I am not the same person I was over a decade ago? Every person makes mistakes. I got caught, paid my dues … and I am still suffering tremendously due to an unforgiving board."
'Management Is Unreceptive'
Lashonda Shannon, a BRN Enforcement Program analyst, told The Epoch Times she had "heard about this issue from several nurses."
"The public needs to know about this as it is a matter of public concern. The livelihood of Registered Nurses is being negatively affected by the Board's actions," she said via email.
Shannon said she does not represent the BRN, the Department of Consumer Affairs, or the State of California "in any capacity." But she detailed numerous internal problems with the BRN's Enforcement Program—including lack of management oversight, inconsistencies between requirements and expectations among probationary nurses, and inexperienced probation managers who repeatedly issued incorrect information to staff members.
She also mentioned a lack of a formal training program for the BRN's enforcement staff—a failure cited in a 2016 report by the State Auditor.
Shannon shared an example of how the program's process has declined. Originally, after a BRN analyst determined whether or not probation was successfully completed, management would review the decision.
"Now, staff are reviewing their own work … through 'peer reviews' with no oversight, " she said. "There have been instances in which it was deemed a probationary nurse completed the terms of their probation when the nurse had not."
As a result, false information has been displayed online, and users of the Department of Consumer Affairs' license verification system are none the wiser.
"Probation analysts regularly propose new, innovative policies and ideas to improve program effectiveness … but management is unreceptive," Shannon said. She noted that the BRN's Disciplinary Guidelines haven't been revised since 2002.
Bianca has teamed up with a fellow nurse, Elisabeth Sims, to change that.
Demand for Changes
Sims received a DUI in 2018 and reported the charge to the BRN, which took into account a separate DUI from 2009 to justify a full probationary term. On May 15, Sims completed a year of probation, wherein she complied with all of the guidelines without an infraction.
But Sims, like Bianca, is pregnant.
"I am scared of what I will face once going into labor," she told The Epoch Times. "I worry for the day I am called to a drug test while in active labor."
Among the list of policy changes, Sims and Bianca want to see all probationers grandfathered into AB 2138, if applicable. They want the Board to stop treating arrests that don't result in convictions in the same manner as convictions. And once a woman is in active labor, they're asking the BRN not to subject them to drug testing for eight weeks.
When Bianca brought this issue to the attention of Sen. Melissa Melendez (R-Lake Elsinore), the lawmaker helped arrange a May 7 Zoom meeting with Bianca; Shannon Johnson, an enforcement deputy chief at the BRN; and Nicki Taylor, a field representative for Melendez, to discuss Bianca's concerns.
"[Johnson] agreed a lot of the stuff that's been taking place actually shouldn't even be happening to people on probation. Specifically, the pregnancy-related stuff," Bianca said.
Johnson confirmed there are currently no regulations in place for pregnant women on probation and was disheartened to hear how pregnancies like Brittney's were being handled.
Brittney, who is currently on disability, is still responsible for drug testing, Alcoholics Anonymous classes, and attending support groups as part of her probation. She hopes to return to work in July, at which point her probation will start over again—essentially cancelling out the testing and meetings she's complied with thus far—because the minimum six months have to be consecutive.
"That's kind of sad," she said. "I was pregnant, [but] I had to go off. I worked as long as I could."
The BRN does not plan to reopen disciplinary decisions that were entered prior to the effective date of AB 2138, according to Cave. But with regard to pregnant nurses, she said, "The Board would not require a probationary nurse to test should there be a medical reason. If the RN provides documentation to their probation monitor, the testing would be excused."
Taylor said if the BRN isn't willing to implement changes immediately, then Melendez's office would seek them through the legislative process.
But any changes that are made will arrive too late for Bianca.
"[Johnson] agreed I should not have been put on probation to begin with, but … there's nothing that they can do about it," Bianca said. "I made it very clear to her a lot of the issues that take place don't just take place for me; it's not something that I want to see just changed for me. I want to see a change for everybody, but that requires some regulation change. And she [said] it could take years."
Bianca said Melendez's office would be contacting her in the upcoming weeks to discuss the next steps for drafting an amended policy.
"Overall, I felt like it was a very good meeting and informative, but I don't 100 percent feel like much got accomplished," she said. "I'm just gonna continue fighting for those things."