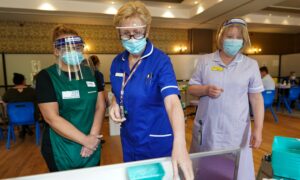 A CCP virus variant first detected in India has been "out-competing" the Kent variant in some areas in the UK, a British medical expert has said.
Paul Hunter, professor in medicine at the University of East Anglia, said the Indian COVID-19 variant of concern "clearly has been out-competing" the Kent variant, also known as the UK variant, in a number of areas around the UK.
According to data from Public Health England (PHE), cases of the variant nearly doubled from 520 to 1,313 this week in the UK. Four people have now died from the variant as of May 12.
"Indeed it's now in most regions of the UK, with the possible exception of Yorkshire and Humber in the Northeast, which seem to have very few cases so far," Hunter told BBC Radio 4's Today programme on Friday.
He said the Indian variant, also known as B1617.2, "seems to be a little bit more resistant" than the Kent variant, though it appears to be "not as resistant as the South African variant."
It is currently infecting mostly younger people who have not been vaccinated, he said. "When you look at the numbers of cases that we're seeing, it is predominantly increasing in those people who are of an age that won't really have had much access to vaccines so far."
Hunter said that even vaccinated people are still getting infected with the Indian variant, but their symptoms are much less severe.
"There's some evidence indeed in the UK that once you've had the vaccine you may well still get COVID but it'll be substantially less severe generally than it would have been otherwise."
He suggested that the government's plan to lift all COVID-19 restrictions on June 21 could be in doubt if the Indian variant causes increases in cases in elderly people and a rise in people needing hospital care.
"If the Indian variant of the epidemic continues to increase at the same rate as it has over recent weeks, we're going to have a huge number of cases by June."
At the moment, the CCP (Chinese Communist Party) virus variant "seems to be spreading in unvaccinated younger people" and not yet resulting in increasing hospital admissions, he said.
But he said the government's lockdown exit plan "would be in doubt" if the Indian variant spreads more among the elderly starts to increase hospitalisations, putting pressure on the National Health Service.
PA contributed to this report.