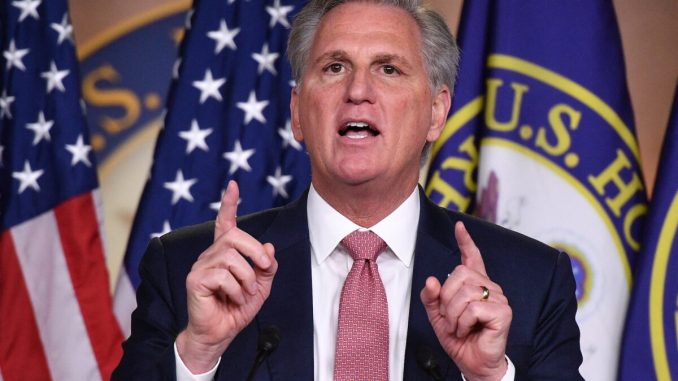 House Minority Leader Kevin McCarthy (R-Calif.) and several of his GOP colleagues wrote an open letter to the nation's governors, urging them to "put America back to work" by ending the $300 weekly pandemic unemployment boost that they blame for discouraging people from taking jobs and hurting businesses and the economy.
In the letter, co-signed by McCarthy and Reps. Steve Scalise (R-La.), Kevin Brady (R-Texas), and Jackie Walorski (R-Ind.), the Republicans say they have heard from "countless Main Street employers who are struggling to hire the workers they need, due in large part to enhanced federal unemployment insurance benefits."
President Joe Biden's $1.9 trillion American Rescue Plan included provisions for a $300 weekly federal jobless top-up—over and above state unemployment benefits—which is scheduled to lapse in September.
"Unfortunately, we are now seeing the negative consequences of these misaligned economic incentives," McCarthy and his colleagues wrote, adding that, "an estimated 40 percent of the unemployed now earn more staying at home than working, causing severe labor shortages across the country" and impacting a number of industries.
A new report from the largest small-business lobby group in the United States found that a record number of small businesses couldn't find enough workers to hire in April, even as the number of job openings in the U.S. economy surged to 8.1 million in March, the highest number in the history of the series.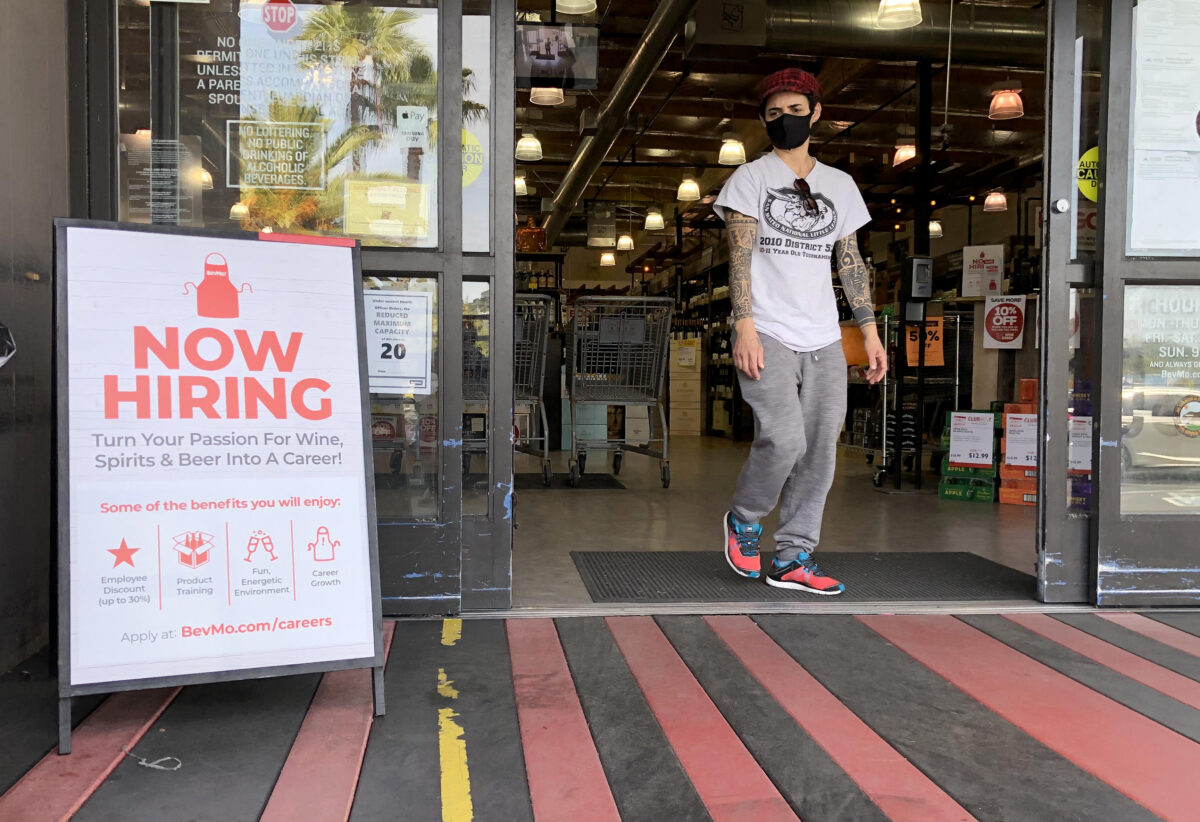 Business groups have blamed the unemployment boost for sidelining workers and making it hard for businesses to hire badly needed employees.
The U.S. Chamber of Commerce called for an early end to the $300 jobless supplement, issuing a statement to that effect after a lackluster jobs report last week showed a sharp slowdown in hiring, even as job openings hit a record high in March.
"The disappointing jobs report makes it clear that paying people not to work is dampening what should be a stronger jobs market," U.S. Chamber of Commerce Chief Policy Officer Neil Bradley said in a statement on May 7. "One step policymakers should take now is ending the $300 weekly supplemental unemployment benefit. Based on the Chamber's analysis, the $300 benefit results in approximately one in four recipients taking home more in unemployment than they earned working."
Following the release of the disappointing jobs report, Biden sought to fend off claims that the enhanced unemployment boost was creating a disincentive for people to take jobs and so driving the sharp slowdown in April hiring.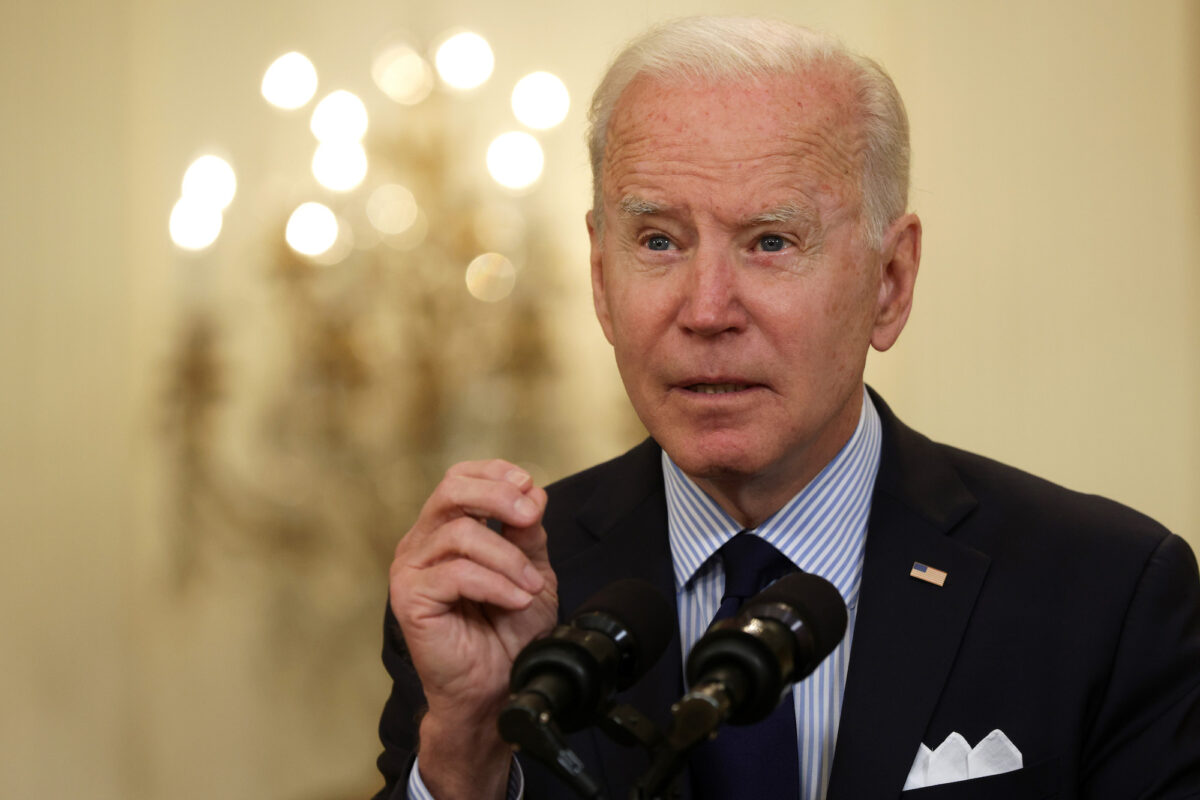 Biden was asked at a press conference on May 7 whether the federal $300 weekly jobless benefit had any effect on diminishing a return to work.
"No, nothing measurable," Biden said.
At the same time, at a White House briefing on Monday, Biden said his administration would work with states on renewing requirements that workers cannot turn down a "suitable" job they are offered and continue to collect federal jobless benefits.
Republican governors in a number of states have responded to business hiring woes by ending the federal unemployment boost ahead of its scheduled termination date.
To date, at least 18 GOP-led states—Alabama, Alaska, Arizona, Arkansas, Georgia, Idaho, Iowa, Mississippi, Missouri, Montana, North Dakota, Ohio, South Carolina, South Dakota, Tennessee, Utah, West Virginia, and Wyoming—have announced they will end the federal unemployment boost at some point this summer.
Florida authorities have announced they will tighten eligibility requirements for collecting unemployment benefits in response to the labor crunch by restoring a rule requiring unemployed Floridians to contact five employers a week to continue to receive jobless benefits.