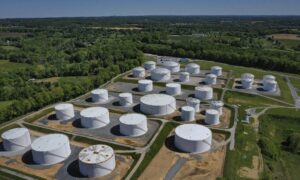 A major fuel pipeline in the Eastern U.S. has resumed "normal operations," its operator announced on Saturday.
"We have returned the system to normal operations, delivering millions of gallons per hour to the markets we serve," Colonial Pipeline said in a statement.
The Georgia-based firm initiated the restart of the approximately 5,500-mile pipeline, which stretches from Houston, Texas, to Linden, New Jersey, on Wednesday, but said at the time it would take several days for operations to fully resume.
Markets served by the pipeline include Louisiana, Georgia, and Maryland.
About 13,450 stations were out of fuel on Saturday, a drop from 16,315 that could not serve customers two days prior, according to GasBuddy.
Shortages eased in some of the hardest-hit states, including North Carolina, Virginia, and Georgia. Some four out of five stations remain out of fuel in Washington, with about half without gas in Georgia and North Carolina.
Data from GasBuddy showed U.S. gas demand dropping 12.6 percent from May 7 to May 14, Patrick DeHaan, an analyst with the company, said on Twitter.
Energy Secretary Jennifer Granholm has predicted normal service at gas pumps by late Sunday.
Colonial suffered a so-called ransomware attack. A cybercriminal group infiltrated Colonial's network and stole data it then held hostage in return for payment.
Colonial reportedly paid $5 million to the group. According to Tom Robinson of Elliptic, Colonial paid 75 bitcoin, a cryptocurrency currently worth over $48,000 each, on May 8.
A representative for the company declined to say whether the company paid a ransom.
Colonial took parts of its network offline to deal with the attack. That led to the pipeline going offline.
Americans rushed to stations to fill tanks after the company disclosed the attack and its response. Shortages and prices both spiked.
The average price per gallon was up to $3.04 on Saturday, after breaching $3 for the first time since 2014, according to the American Automobile Association. That was up from $2.96 a week ago and $2.86 a month ago.
"Since this incident began, we have been clear that our focus was on the safe and efficient restoration of service to our pipeline system. That is what we have achieved through the commitment and dedication of the many Colonial team members," Colonial said on Saturday.
The firm said it has invested in IT and cybersecurity and "will continue to put safety and system integrity first and will invest the required resources to maintain safe and reliable operations of our pipeline."