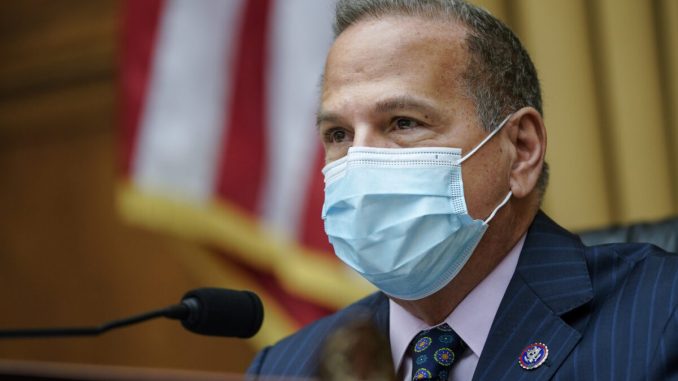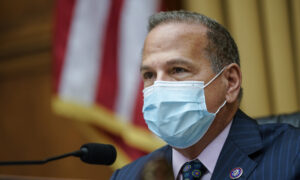 Rep. David Cicilline (D-R.I.) is seeking to censure three Republican colleagues who he claimed downplayed what happened on Jan. 6 when people stormed the U.S. Capitol in Washington.
The Democrat is looking for co-sponsors for a resolution that would censure Reps. Andrew Clyde (R-Ga.), Jody Hice (R-Ga.), and Paul Gosar (R-Ariz.) for comments they made during a recent congressional hearing.
"As members of Congress, we have a responsibility to our constituents, the country, and the Constitution to be truthful about facts even when it is inconvenient and uncomfortable," Cicilline wrote in a letter to other House members.
"These members cannot be allowed to rewrite history at their convenience by disrespecting the sacrifices made by Capitol police officers and downplaying the violent, destructive intent that rioters carried into this sacred building."
"It's very dangerous. It really emboldens others who might consider doing the same thing if it can be explained away," Cicilline added during an appearance on MSNBC.
Colleagues were told to fill out a form if they want to cosponsor the resolution, which has yet to be released.
At issue were remarks the three Republican members made during a House Oversight Committee hearing last week.
Clyde at one point told the hearing that what happened on Jan. 6 "was not an insurrection" because, he argued, they were not trying to defeat the government. He described the rioters as "an undisciplined mob," some of whom "committed acts of vandalism."
No one who participated in the breach has been charged with insurrection.
Clyde also said that people who entered Statuary Hall were orderly, adding: "If you didn't know the TV footage was a video from January the six, you would actually think it was a normal tourist visit."
Gosar questioned a former Department of Justice official about the death of Ashli Babbitt, an unarmed Air Force veteran who was fatally shot by a U.S. Capitol Police officer when she tried climbing through a broken window into the Speaker's Lobby, adjacent to the House chamber.
"As the death certificate says it was a homicide. Who executed Ashli?" Gosar asked.
Former acting Attorney General Jeffrey Rosen said he did not want to talk about individual cases.
The Department of Justice cleared the officer, who has not been identified publicly, last month, saying an investigation determined that there is insufficient evidence to support a criminal prosecution.
Hice, who is running for Georgia secretary of state, noted that media reports initially claimed the mob killed Capitol Police officer Brian Sicknick, but an autopsy concluded the officer died on Jan. 7 from natural causes. He also emphasized that former President Donald Trump told supporters at The Ellipse on Jan. 6 that they should remain peaceful after recommending they march to the Capitol.
Democrats hold a seven-seat majority in the House, enabling them to censure or remove members from committees with no minority support. Democrats in February removed Rep. Marjorie Taylor Greene (R-Ga.) from two committee posts over her past comments and actions.
The offices of Clyde and Hice did not respond to requests for comment.
Gosar told The Epoch Times in an emailed statement: "I will continue to seek the truth and I won't hesitate to point out exaggerations, misrepresentations, or outright lies about the January 6th riot. That some people don't want these questions answered is inexplicable to rational people."