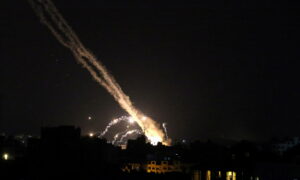 The Department of Defense confirmed it is pulling 120 troops from Israel amid a flare-up in tensions between Jerusalem and designated terrorist groups in Gaza.
Pentagon press secretary John Kirby told reporters that U.S. Central Command and U.S. European Command staff flew on a C-17 military plane from Israel and arrived at Germany's Ramstein Air Base on Thursday.
"We made this decision to remove these individuals in coordination with our Israeli counterparts," Kirby said, adding that the military staff "were in Israel for a routine planning event" before the fighting escalated. The move was done as a precaution, Kirby said.
Israel carried out a number of airstrikes on targets in Gaza in recent days, including hitting buildings that were reportedly being used by Hamas—the group that rules over Gaza and was designated as a terrorist group by the State Department in 1997. The airstrikes were in response to Hamas and other groups firing rockets into Israel.
Israel's military also confirmed it built up its presence along the border with the Gaza Strip and the Israeli Air Force bombed an underground tunnel network used by Hamas late on Thursday, according to the Israeli Defense Forces (IDF) in a statement to the Jerusalem Post.
In the tunnel bombing incident, the Israeli operation included 160 aircraft as well as tanks and artillery firing from outside the Gaza Strip, Israeli military spokesman Lt. Col. Jonathan Conricus said. Palestinian rocket barrages against southern Israel swiftly followed.
"What we were targeting is an elaborate system of tunnels that spans underneath Gaza, mostly in the north but not limited to, and is a network that the operatives of Hamas use in order to move, in order to hide, for cover," Conricus told foreign reporters about the network.
Within the United States, leftist groups and some Democrats in Congress attempted to place pressure on the Biden administration to condemn Israel. However, the White House, House Speaker Nancy Pelosi (D-Calif.), Senate Minority Leader Chuck Schumer (D-N.Y.), and numerous Republicans have said that Israel has the right to defend itself.
"In our view, attacks from Hamas into civilian neighborhoods is not self-defense, so he certainly reiterated that, but also reiterated the need to move to de-escalate the situation on the ground," White House press secretary Jen Psaki told reporters this week.
A number of world leaders including U.N. Secretary-General Antonio Guterres and French President Emmanuel Macron have appealed for an immediate ceasefire.
Reuters contributed to this report.