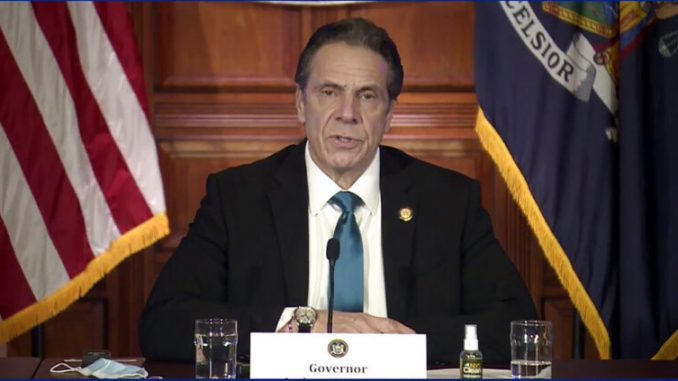 OAN Newsroom
UPDATED 3:25 PM PT – Friday, February 19, 2021
Gov. Andrew Cuomo (D-N.Y.) pivoted from spinning the news about his nursing home cover-up to using the families of victims as a political shield. The New York governor remained defiant as he pushed back on criticism over his nursing home cover-up scandal.
"Those false statements must be countered or else everyone gets confused," Cuomo said. "No one has a right to spread lies or misinformation that causes pain to families."
On Friday, Cuomo doubled down on his COVID orders. He said he should have done more to discredit reports of unconfirmed nursing home deaths as a result of his patient admittance rule.
"I was not aggressive enough in knocking down the falsity," the New York governor claimed. "We were busy, we were doing our jobs. I dismissed it as partisan politics, but I should've been more aggressive in calling it out."
The Democrat then attempted to shift the conversation onto other New York lawmakers, who said they were not given accurate death numbers. Cuomo condescendingly explained he "paused" the release of the data to them because the DOJ asked for it first.
"The NY state legislatures requested the information," Cuomo claimed. "We paused the state's request because the DOJ got precedence. They were told this. Federal DOJ gets precedence."
Cuomo's defense is riddled with holes as his former top aide already confessed to the cover-up out of fear of federal prosecution.
Additionally, the New York attorney general's investigation uncovered that Cuomo may have under-reported the number of COVID deaths in nursing homes by at least 50 percent.
The FBI and DOJ have announced probes into the governor's nursing home scandal.