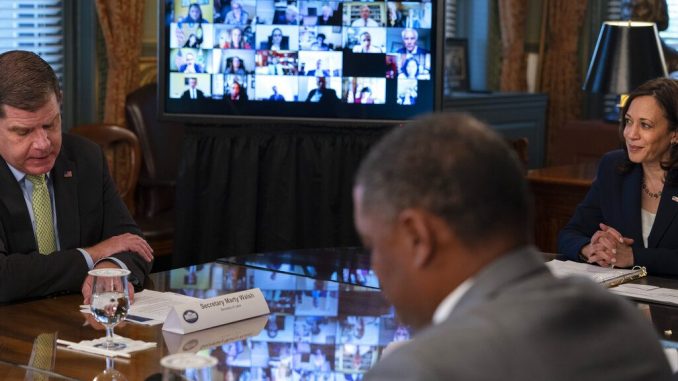 OAN Newsroom
UPDATED 8:26 AM PT – Friday, May 14, 2021
Joe Biden signed an executive order to create a task force in order to promote labor organizing and chose Kamala Harris to be in charge of what is now referred to as the White House Union Task Force.
On Thursday, Harris and Labor Secretary Marty Walsh presented their case on how important more unions are in helping the nation's economy recover from government-mandated lockdowns. Harris began by citing statistics about life as a union worker, but she failed to discuss the actual amount of money that workers receive as part of their pension and retirement funds.
The omission may not have been accidental as the International Union of Painters and Allied Trades stated clearly on their website that it is also necessary to feed a personal savings plan in order to maintain your own balance and that other issues may arise when a worker tries to access their fund.
Every worker deserves to be treated with dignity and have a voice on the job. Unions ensure that. Today, @SecMartyWalsh and I met with our Task Force on Worker Organizing and Empowerment to discuss how we can create good union jobs, help workers organize, and grow the economy. pic.twitter.com/w1Zyx9Ziz0

— Vice President Kamala Harris (@VP) May 14, 2021
As for safer working conditions, the American Federation of Labor and Congress of Industrial Organizations, which can also be referred to as AFLCIO, outlined their strategy to ensure what they have called a safer working environment.
The AFLCIO voiced that through organizing and collective bargaining, unions have gained even stronger protections and rights that have given workers a real voice in safety and health at the workplace. However, this has translated to threatening businesses with strikes or federal inspections in order to get them to comply.
Unfortunately, the White House Task Force timing leaves much to be desired as their meeting came just two days after former United Auto Workers President Dennis Williams was sentenced to 21-months in federal prison for his part in an embezzlement scheme within the top tier of the organization.
In 2020, union members made up just 10.8% of the U.S. workforce, down from more than 30% in the 1950s.

Economic inequality, stagnant real wages, and the shrinking of our middle class are all associated with the decline of workers represented by unions.https://t.co/pTdAf2CIYn

— Secretary Marty Walsh (@SecMartyWalsh) May 5, 2021
Walsh, a former union president himself, did not seem concerned and instead has planned to charge ahead and spread union ideals into every crevasse of the American industry.
Walsh went on to discuss how he believes what once encouraged organizing, now inhibits it and that this is a trend that must be discarded immediately. He said that he's prepared to do whatever it takes to restore unions. It seems even at the expense of the freedom and prosperity of the American worker.