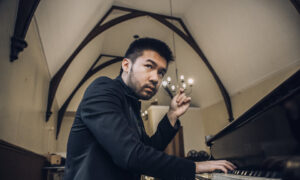 Acclaimed American composer and pianist Conrad Tao will lead the 2021 Laguna Beach Music Festival as artistic director with live, in-person performances through May 16 at the Irvine Barclay Theatre.
The festival is co-presented by the Philharmonic Society of Orange County and Laguna Beach Live. It marks the long-anticipated return to public performances since the pandemic restrictions halted live shows more than a year ago.
"This year's festival occurs during an 'anything but normal' time, yet our goal is to ensure that the music that we've all missed, more than anything, is front and center," Tommy Phillips, Philharmonic Society of Orange County's president and artistic director, told The Epoch times via email.
The 27-year-old Tao has performed worldwide as a pianist and composer with music organizations such as the Los Angeles Philharmonic, Cleveland Orchestra, New York Philharmonic, Cincinnati Symphony, Seattle Symphony, Finnish Radio Symphony and Boston Symphony.
Tao is a recipient of the prestigious Avery Fisher Career Grant, and was named a Gilmore Young Artist, an honor awarded every two years by The Lincoln Center to the most promising American pianists of the new generation.
He has received the ASCAP Morton Gould Young Composer Award no less than eight consecutive times, and in 2019, Tao received the outstanding sound design/music composition award at the New York Dance and Performance Awards.
"We couldn't be luckier to have Conrad Tao as our Artistic Director this season—his out-of-the- box, thoughtful and inventive programming brings something for everyone in this year's festival," Phillips, said. "Conrad is redefining what it is to be a classical musician in this 21st, post-pandemic century.
"He has taken the 'clean slate' that we have given to him as festival artistic director to be adventurous, to invite some great friends to be part of the festival, and to let us all be a part of the 'new' classical."
Appearing with Tao during the festival will be guest artists including violinist Stefan Jackiw, dancer and choreographer Caleb Teicher, The JACK Quartet, and the Westerlies.
Performances will have limited capacity and health and safety protocols that adhere to county and state guidelines. The concerts will also be broadcast virtually via livestream.