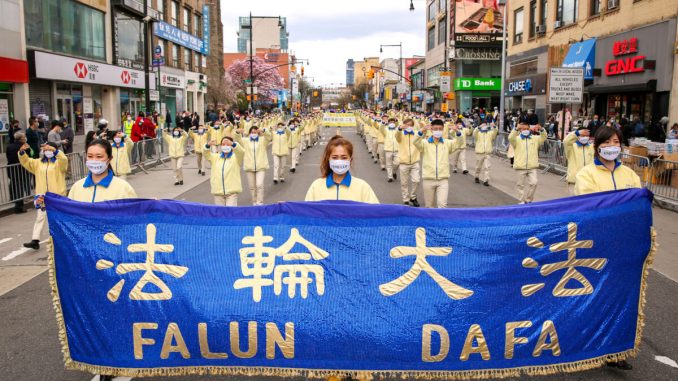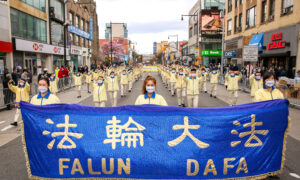 NEW YORK—Before the pandemic, waves of people donning yellow and blue would congregate in New York and elsewhere this time of year to take part in a celebration.
In public parks and on the streets, they showcased slow-moving, meditative exercises, while wearing shirts emblazoned with the words "truthfulness, compassion, and tolerance"—the three core tenets of their faith, Falun Gong (also known as Falun Dafa).
May 13 is World Falun Dafa Day, marking the date when the spiritual practice was first made public in China in 1992.
The gatherings on this day were not only meant for commemoration, adherents say, but also to send a defiant message to the Chinese communist regime, which has been single-minded in seeking to eradicate the group for more than two decades.
One of the largest spiritual communities in China, Falun Gong garnered a following of around 70 to 100 million by 1999. But this popularity was deemed unacceptable to the atheist Chinese regime, which then launched a brutal persecution that has continued through today.
Millions have since been sent to detention centers, prisons, or labor camps, where they have been subjected to cruel torture, slave labor, and organ harvesting.
But outside of China, the practice has quietly thrived, spreading to more than 90 countries around the world, with Falun Gong's main text "Zhuan Falun," which contains its moral teachings, translated into 40 languages.
After a year of virtual activities, adherents are now back with parades and performances to mark this year's World Falun Dafa Day. The day also coincides with the birthday of the practice's founder, Li Hongzhi, whose teachings, adherents say, have helped steer them to a better life.
'Tiger' to 'Gummy'
Andres Cordova, a 33-year-old senior software engineer based in the United States, will be one of the participants in a New York parade set for Thursday.
Cordova took up the practice at the age of 14 when he was still in his home country of Venezuela. Knowing he was into martial arts and meditation, his friend sent him a link to the practice. He felt an "instant connection" after watching a video about Falun Gong on the website, he said in an interview with The Epoch Times.
Cordova tried out Falun Gong's meditative exercises and soon began reading the books. In 2002, the practice was still little known in the country. A quick search on the Internet would direct anyone to the propaganda from the Chinese embassy or state media. His family, who knew little of Falun Gong, initially didn't approve of Cordova taking up the practice. He thus tried to hide his faith by only reading pocket-sized versions of Falun Gong books while he was outside walking the dog.
"Everyone is afraid of new things," he said.
But gradually, the positive changes in Cordova won his family over.
Once a belligerent young lad, Cordova now chuckles recalling the nickname "tiger" his mother gave him because of his hot temper. Before practicing Falun Gong, he was "always picking fights with everyone," including his elder brother's friends who were older than him, Cordova said.
"Because I practiced martial arts, I thought I was invincible, and I could fight everyone," he said. But learning Falun Gong made him "much more peaceful and tolerant, to the point that … [his] elder brother kind of took advantage" of him.
"My mom would see that and she was like, 'why do you never fight for your things?' and she would try to defend me," he recalled. Her new nickname for him was "gummy."
Values he learned from the practice have also helped him make the right life choices, he said, such as not indulging in alcohol and gaming.
Growing up in a single-parent family, people around him constantly fed him ideas that marriage is bad, that it equates to "throwing yourself in the water and cuffing yourself," which he was glad he resisted, said Cordova, now the father of a three-month-old daughter.
Having never had a father figure in his life, he had fretted over how he could be a good father himself, and once again turned to his faith for strength. He hopes to be an "authority" as a father and husband—not to "lord over people," but "to be the one who sacrifices the most in the family and the one who helps the wife and children with their burdens as much as possible," he said.
Cordova is not the only one to have found solace through the practice.
'Peace at Heart'
Cristina Diaz, a retired language reference assistant for the United Nations, learned about Falun Gong through a massage specialist in Geneva.
At the time, Diaz suffered from severe pains in her head. They would start when she woke up and by midday, the pain would be so bad that she "couldn't do anything else."
She followed the massage specialist's advice to listen to the teachings of Falun Gong, and miraculously, all those ailments went away, she said. Her failing vision also improved, so she took off the eyeglasses that had accompanied her for 40 years of her life.
But for Diaz, now 70 years old, a more significant change was a sense of "peace at heart" she gained after being able to view everything around her in a different light, including events that have long since passed.
Diaz's father, an ethnic Chinese Peruvian, died of cancer when she was eight. But little as she was, Diaz had never forgotten her father's abandonment of her. To him, she was a barrier, preventing him from leaving his marriage and onto a better life.
Diaz could still vividly remember the time when she was playing with her mom and laughing, then suddenly her father showed up and rebuked her for their merriment. Carrying her in his arms, he sent her away to her grandparents' house, where she stayed for the next few years. She was no more than four years old at the time.
Diaz sobbed when she was being taken away. "I couldn't make any sounds by crying because he didn't let me," she said in a phone interview.
While at her grandparents' home, her father never once asked for her to come back. Later when he was hospitalized, he did not ask for her either.
Diaz carried the pain of her father's rejection for a long time. But the concept of compassion espoused by the practice has helped dissolve any hard feelings she once had.
"I wanted to have peace with him," she said, a day after sitting amidst colorful lotus flowers with local practitioners in Switzerland to mark Falun Dafa Day.
Around the world, adherents have come up with creative ways to recognize the occasion.
In Toronto, Canada, 120 cars, each with blue and yellow flags by the side, gathered on May 8 and drove across the downtown area and nearby cities.
A number of other cities across Canada also celebrated the day by raising flags at local landmarks, including at Niagara Falls.
At the iconic Liberty Square in Taipei, Taiwan, thousands of adherents on May 1 gathered to take part in a decades-old tradition by dressing in colored outfits and sitting in designated areas to form an immense image, composed of "longevity peaches" and heavenly fairies, images commonly associated with traditional Chinese culture.
"As I was sitting there and listening to the music being played, I found a moment of serenity," Debbie Tung, a 28-year-old participant, told The Epoch Times.