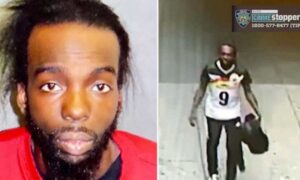 The New York City Police Department (NYPD) confirmed that a suspect in a Times Square shooting that left three people injured over the weekend was arrested in Florida.
In a news conference on Wednesday, NYPD Chief Dermot Shea said that "there is justice," as "several hours ago," the shooter was apprehended in Florida and will be extradited back to New York City.
NYPD Detectives Chief James Essig confirmed that Farrakhan Muhammad was arrested by the U.S. Marshals Service in a McDonald's parking lot near Jacksonville, Florida.
Muhammad was with a woman believed to be his girlfriend, Essig said. He was taken into custody without incident.
Watch as @NYPDShea and @NYPDDetectives update New Yorkers on Saturday's shooting in Times Square.

Click below to watch the full press conference, including Q&A. https://t.co/GpCfZZZeB0 pic.twitter.com/wQJerxEyUj

— NYPD NEWS (@NYPDnews) May 12, 2021
Muhammad, 31, is accused of opening fire at Times Square in Manhattan on Saturday, striking three people, including a 4-year-old girl. The girl underwent surgery and is now home, reports said.
"I was able to run like five steps and I told my mom to take the baby and run," victim Wendy Magrinot, who was shot, told ABC7. "I saw a police officer, and I screamed to him, 'I'm shot, I have a 2-year-old. I don't want to die. Please help me.'"
The other victim who was shot was identified as Marcela Aldana, who was shopping.
"Times Square, high publicity, more people have heard about it," Gov. Andrew Cuomo told reporters this week. "Times Square is a tourist destination. Times square is iconic New York City. Was it more damaging? Yes, only because it communicated to more people."
According to the New York Post, Muhammad has a criminal record stretching back to 2007, including two felony robbery arrests and a 2012 weapons arrest.
UPDATE: @NYPDDetectives have identified the suspected wanted in connection to the shooting in Times Square on Saturday, May 8th.

Anyone with information on the whereabouts of Farrakhan Muhammad please call @NYPDTips at #800577TIPS. He's 31 years old, 5'6″ and 160lbs.s pic.twitter.com/hneBxZzgbc

— NYPD NEWS (@NYPDnews) May 11, 2021
The shooting comes in the midst of a spike in crime, including shootings, in New York City in recent months. According to recent data released by the NYPD, in March, the city saw a 68.8 percent increase in gun-related arrests compared with March 2020.
Muhammad was listed as an inmate in the Bradford County, Florida, jail database. It's not clear if he has a lawyer.