The Pentagon has said that the withdrawal of remaining U.S. military forces in Afghanistan is making steady headway, with up to 12 percent of the process already complete.
The U.S. military's Central Command, or Centcom, said in a May 11 statement that it estimates completion of between 6-12 percent "of the entire retrograde process," the technical term for withdrawal of forces and equipment. At the same time, the Pentagon is not disclosing specific troop drawdown numbers as a precaution against possible Taliban attacks.
Centcom said that enough equipment had been decommissioned to fill 104 of the U.S. military's jumbo transport aircraft, the C-17 Globemaster planes. At the same time, more than 1,800 pieces of equipment have been turned over to the Defense Logistics Agency for destruction, while one facility has been handed over to the Afghan National Army.
Pentagon spokesman John Kirby told reporters on Tuesday that the U.S. military was being deliberately guarded about troop numbers.
"Central Command has expressed a concern about the release of personnel figures specifically, given that we have to assume, and we are still assuming that this drawdown could be opposed by the Taliban," Kirby said, according to Air Force Times.
Kirby in April warned of Taliban threats to the U.S. military drawdown, which is scheduled to be completed by Sept. 11.
"We've seen their threats, and it would be imprudent for us not to take those threats seriously," he said at an April 15 press conference. "It would also be imprudent for the Taliban to not take seriously what [President Joe Biden and Secretary of Defense Lloyd J. Austin] both made clear: Any attack on our drawdown, on our forces or our allies and partners … will be met very forcefully."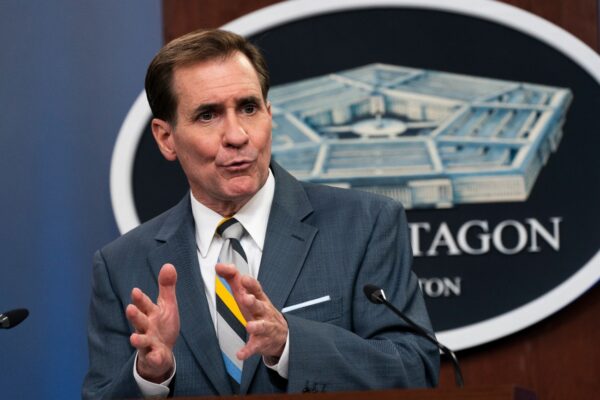 By the time it is complete, the drawdown will have brought back to the United States all 2,500 or so troops that have been stationed in Afghanistan.
President Joe Biden announced the withdrawal on April 14, saying that that "it's time to end America's longest war."
The president's decision to withdraw the remaining troops has drawn a mixed reaction on Capitol Hill and from security experts, while national security adviser Jake Sullivan said in late April that the Biden administration "can't make any guarantees" that terrorist groups such as al-Qaida and ISIS won't see a resurgence once the drawdown is complete.
The foreign troop withdrawal has sparked a surge in fighting between Afghan security forces and the Taliban, who have waged a decades-long war to overthrow the foreign-backed government.
Kirby was asked at a May 10 press conference how Afghan security forces were coping with the renewed fighting and what the prospects are going forward, given the dwindling support from U.S. air strikes as the wind-down continues.
While declining to comment on the specifics of operations, Kirby expressed guarded optimism, saying Afghan government forces have "more capability" now than in the recent past.
"It's important to remember that for a while now, a long while, they have been in the lead in operations in their country. And they are fighters," Kirby said of Afghan security forces.