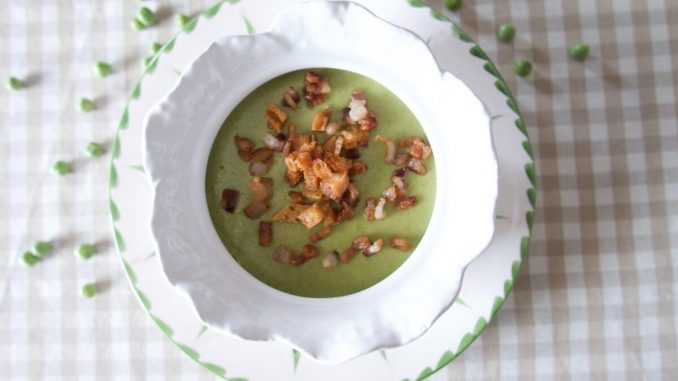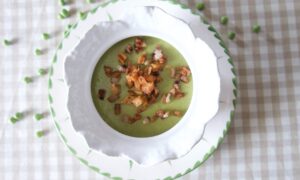 We all know about the classic split-pea and ham soup, often pale green in color. This soup is not that.
I cook fresh peas in a flavorful stock and blend with it mint for a refreshing, bright green soup made even better garnished with crisp pancetta and croutons. It's delicious served either hot or cold.
You can also make it year-round using widely available frozen peas. I avoid canned peas, as I find that their color and flavor pale in comparison. Double the recipe as needed; this soup will keep in the fridge for up to 2 days.
Serves 4
For the Stock
6 cups water
1 small onion, cut into quarters, peels reserved
2 celery stalks, diced
1 carrot, sliced into 1-inch pieces
1/2 cup mixed fresh herbs and stems
20 peppercorns
1 bay leaf
For the Soup
8 ounces pancetta, diced
2 slices white bread, diced into 1/4-inch cubes
2 tablespoons butter
1 small onion, peeled and diced
1 clove garlic, thinly sliced
2 celery stalks, diced
1 pound fresh peas (from about 2 pounds unshelled peas; or frozen, thawed)
1 cup fresh mint leaves
Sea salt and ground pepper to taste
Make the Broth
In a large stockpot, combine the water, onion, celery, carrots, mixed herbs, peppercorns, and bay leaf. Bring to a boil, and then lower the heat and simmer for about 30 minutes. Strain, discard solids, and set aside.
Make the Soup
In a medium sauté pan over low heat, add the pancetta and cook until crisp. Remove with a slotted spoon and set aside. To the rendered fat in the pan, add a couple more tablespoons of olive oil, and quickly sauté the diced bread until golden. Remove with a slotted spoon and drain on paper towels.
In a saucepan, melt the butter over medium-low heat. Add the onions, garlic, and celery and sauté until translucent. Add the peas and 4 cups of the reserved broth. Bring to a boil, then lower the heat and simmer until the peas are soft, about 3 to 4 minutes. Remove from the heat, add the mint, and stir until the leaves soften.
Working in batches, puree the soup in a blender until very smooth, adding more water if necessary. If serving hot, return to a clean pot and reheat. If serving cold, place in the fridge to chill. Season with salt and pepper to taste.
Garnish with pancetta and croutons.