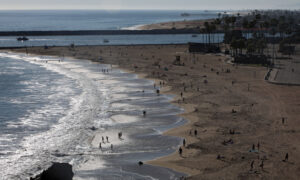 NEWPORT BEACH, Calif.—Newport Beach city council recently approved a temporary discontinuation of permit fees for accessory dwelling units (ADU) in an effort to meet the state's housing requirement.
The state has directed Newport Beach to create 4,845 new housing units throughout the next eight years under Regional Housing Needs Allocation requirements.
ADUs are secondary structures, such as attached or stand-alone guest houses or above-garage apartments, located on the same lot as the primary residence. Units can have their own entrance, kitchen and dining areas.
The fee waiver, which is being offered through the end of 2022, also applies to existing illegal ADUs that comply with city code requirements but were not previously permitted. However, ADUs or junior ADUs that are part of a new development, such as a new single-family home development, do not qualify for the fee waiver.
Permit fees range from $1,000 to $5,000, depending on the size and type of unit.
Junior ADUs are a smaller, more affordable option, which the city is hoping will be a more attractive option for property owners wishing to build on their property. Any new units will be counted towards the state requirements for lower-income housing.
According to the California Department of Housing and Community Development, local governments are allowed to adopt ordinances for junior ADUs which are no more than 500 square feet and are typically bedrooms in a single-family home that have an entrance into the unit from the main home and an entrance to the outside from the unit. The junior units must have cooking facilities, including a sink, but are not required to have a private bathroom.
The city's strategy is to encourage property owners to build such units to meet the numbers, thereby mitigating the necessity to build dense apartment-like structures that could alter a neighborhood's character.
"Instead of high-density buildings providing the required housing units, we are hoping to disperse units throughout the community by encouraging residents who would like to build these types of structures on their property," Jaime Murillo, principal planner of Newport Beach told The Epoch Times.
With parking and traffic issues a being a coastal city constant, Murillo said that officials are working hard on plans that address the state's mandate while trying to preserve the character of the community and the unique characteristics that embody each of the different areas of the city, often referred to as villages.
Structures eligible for the few waiver include the construction of new, detached ADUs on developed lots; the construction of new ADUs and junior ADUs attached to an existing residence; conversion of an existing space to ADU or junior ADU; and legalization of existing units meeting fire and building code requirements.
All units will be subject to deed restrictions that prevent the units from being used for short-term lodging, and the separate sale of a unit apart from the primary residence.