Group claims violation of UNDRIP rights; province and junior miner cite over a decade of support for consultation and attempts at engagement thwarted
A First Nation in northern Ontario, citing infringement of sacred territory, has sued the province and a prospector for $80 million in damages and an injunction to stop further exploration work and commercialization of hard rock gold claims said to contain tens of millions of ounces.
In response, the Ontario government cites support it's provided since 2008 to boost the indigenous community's capacity for consultation including in terms of mineral development.
The prospector, now in his mid-70s, similarly points to years of engagement efforts that met with "non-engagement and delay," as well as "intensive logging and exploration activities" that have already occurred on the land under dispute.
The gold-rich region in question is near Geraldton, northwestern Ont., north of Lake Superior. It's a historic mining and logging district that's seen prospecting and drilling since the 1930s. From then until around 1970, over two million ounces of gold had been mined there.
This northwestern area of Ontario is also home to the Matawa First Nations, of which Ginoogaming First Nation (GFN) is a member community.
In the lawsuit, GFN is claiming a lack of consultation over prospecting that disturbed its sacred areas and violated indigenous rights protected under section 35 of the Constitution. It also accuses Ontario of breaking a United Nations doctrine recently enacted in B.C. while similar federal legislation is currently being fast-tracked through Parliament.
"Damages from … Ontario and Quaternary [Mining & Exploration Company Ltd.] for unjustified infringement of Ginoogaming's rights and for breach of duty to consult and accommodate in respect of the permit [is] currently estimated in the amount of $80 million," says GFN's statement of claim filed at the Ontario Superior Court of Justice on Nov. 4, 2020.
"Ontario breached the United Nations Declaration on the Rights of Indigenous Peoples [UNDRIP]," it added. "Both the Canadian and Ontario governments have committed to the full implementation of UNDRIP."
Canada's adoption of UNDRIP has been advocated for by the Assembly of First Nations as well as others. But it has also been criticized by different parties, among them advocates of more resource sector development opportunities for indigenous communities, and those concerned about infringement of sovereignty issues in Canada if the UN standards are adopted.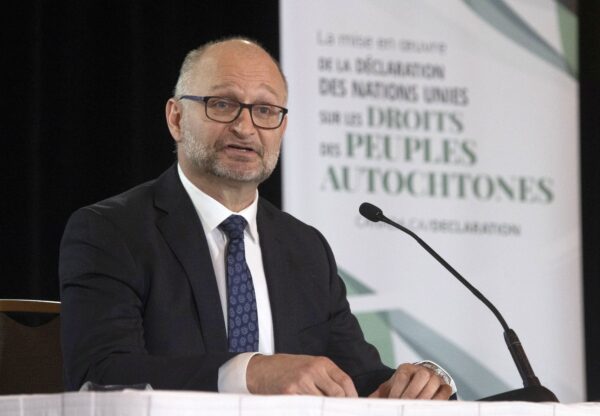 Consultation
For prospector Michael Malouf, president of Quaternary and the related Hardrock Extension Inc., the "11th-hour" lawsuit means he stands to lose his three-and-a-half decades of effort and some $12.4 million in today's dollars invested in the project.
"Thirty-five years of hard work, passion, and a great deal of money have been invested in the Hardrock property. If the plaintiff is successful in stopping exploration … until the eventual resolution of our lawsuit, our family and the shareholders of Hardrock will have lost our entire investment," Malouf said in his affidavit.
Malouf made his first gold discovery in the Geraldton region in 1982. His Hardrock Extension Inc. is a small operation that focuses on "one-to-two-man exploration programs during summers" where possible and efforts to contact senior mining companies to generate investment interest in winters, according to his affidavit.
Malouf says in his April 8 factum that, contrary to the lawsuit's claim of lack of consultation, he's been "trying to engage with GFN since 2011 and jointly with the ENDM since 2015, without success."
He cited a 2011 presentation given to GFN after which "no concerns were raised" when he asked. In May 2012, he sent "a summary report of all work done on the Ferau claims since 1932, including drill results, historic gold value reportings and discoveries. GFN did not respond."
Treaty Land Claim
In August 2012 GFN filed a treaty land entitlement (TLE) claim with the Ontario and federal governments, stating it had "received less Indian Reserve land than was promised" according to treaty rights. Malouf says this filing was unbeknownst to him.
The GFN statement of claim says the Ferau site is located on a portion of its traditional territory that would fulfill its TLE claim. A nearby site, also south of the GFN reserve but part of a separate proposed project called Caouette, is also involved in the lawsuit, with its owner named as a respondent.
Malouf's factum said he only learned of the TLE claim in June 2020. Meanwhile, GFN said it was only in June 2020, when ENDM forwarded to them Malouf's notice of intention to begin work in July, that they "first understood the immediate implications of the Permit" on the land involved in their TLE claim. GFN then launched its lawsuit that November.
The Ontario government says it fulfilled obligations under provincial mining law, and in court documents notes that Ginoogaming thwarted multiple efforts by ENDM to engage.
In its April 8 factum. the government also cites assistance it has provided to Matawa and GFN since 2008 "to support capacity for consultation and engagement and develop economic opportunities and business partnerships," including funding for a "mineral development advisor" since 2012.
'A Very Important Case'
Against this backdrop, GFN has gone about cultivating its own mining interests in the area.
In April 2020, seven months before filing its lawsuit, GFN had announced the launch of a corporation called Minodahmun Development Inc., in partnership with two other First Nations, to manage the economic opportunities expected from their agreement with Greenstone Gold Mines (GGM), a joint venture between mining companies Canterra Gold and Premier Gold.
Malouf's affidavit says GGM owns the defunct Hardrock, MacLeod-Cockshutt and Mosher (HMCM) underground mines, an area just south of Geraldton and to the west of the Ferau site and four others of the six sites owned by Malouf. The bulk of the over two million ounces of gold mined in the region until around 1970 came from the HMCM mines.
The three First Nations had signed an agreement with GGM in November 2019 to build and operate their own gold mine worth $1.3 billion at the HMCM site. According to an October 2019 shareholder update, then-owner Premier estimated "total measured and indicated resources of 7,105,000 ounces of gold for the [GGM] deposit."
Premier Gold was acquired by Equinox Gold in April 2021. Malouf told The Epoch Times in an email that the gold content of his claims dwarfs the GGM property and that the lawsuit would put a chill on future investment.
"Greenstone's 7.2 million ounce development and our (Hardrock Extension Inc.'s) six major structures have the potential for 60 million ounces. It's all based on structural comparison to past production, but very possible," writes Malouf. "It's a very important case because if Ginoogaming can win an injunction based on such a frivolous claim it will mean no smart money will want any part of the camp."
In his factum, Malouf says, "From 1982 to the present, GFN members were able to exercise their protected rights in the area without issue and in peaceful co-existence with the Prospectors," adding that "GFN has abused [Ontario's consultation regime] to achieve its stated goal; total control and management of natural resources in the area."
GFN's acting chief Sheri Taylor declined to comment on the lawsuit. "I've just been informed that I shouldn't be commenting on anything at this time. I will reach out to you when we do decide to make a media release on this," Taylor said.
Jason Rasevych, the GFN director on the Minodahmun Development Inc. board, also declined to speak about the lawsuit and dismissed the idea of working with Malouf.
"There's a lot of reasons [for not working with Malouf]. I don't want to get deep into it," he told The Epoch Times. He added that "there's exploration that's happening all throughout the traditional territory, and there's certainly targets that are more culturally sensitive because of history, ancestral archaeological, and so forth."
GFN's lawyer Kate Kempton declined an interview for this story. Equinox Gold also didn't provide comments.
ENDM Minister Greg Rickford, who also serves as provincial indigenous affairs minister, did not respond to queries from The Epoch Times.