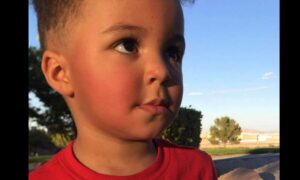 Police in Las Vegas, Nevada, confirmed the body of 2-year-old Amari Nicholson was found Wednesday, coming after a man was arrested in connection to the case.
Amari went missing in early May, and volunteers have been searching ever since.
The Las Vegas Metropolitan Police confirmed the boy's body was located near the 400 block of E. Twain Avenue near Paradise Road.
"This investigation is ongoing," the department wrote in a tweet. "The cause and manner of death will be released by the Clark County Coroner's Office."
Authorities said that Terrell Rhodes was arrested on murder charges in connection to the case. He was booked into the Clark County Detention Center.
Rhodes was identified by family members as the boyfriend of Amari's mother. He made his first court appearance Wednesday and was held without bond, reported News3LV.
Rhodes, 27, had claimed he was looking after the child when a woman saying she was the toddler's aunt picked him up from the Emerald Suites apartments.
"They notified themselves as my girlfriend's baby-daddy's sister, and they said they were here to pick up Amari," Rhodes told reporters last week, adding that they "notified me that it was already pre-arranged."
However, the father's side of the family said that Rhodes's claim was incorrect and that it never happened, 8NewsNow reported.
Later, Lt. Richard Meyers told the news outlet that "as the investigation progressed, it became very clear to us that Terrell Rhodes was our primary suspect."
Anyone with information about the incident should contact CrimeStoppers at (702) 385-5555 or on their website.