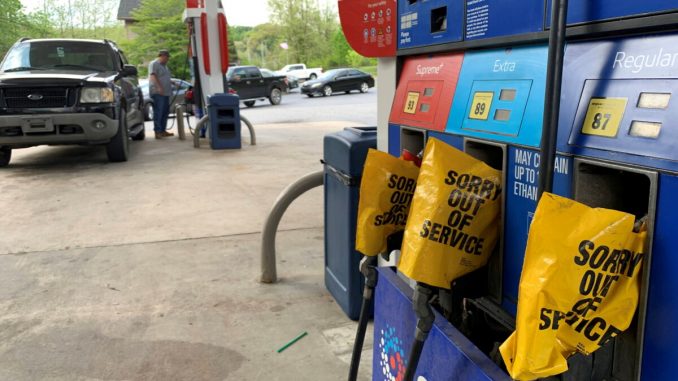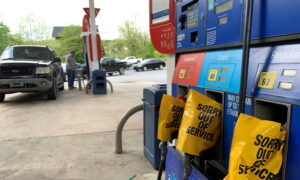 About 71 percent of gas stations in the Charlotte, North Carolina, area are completely out of gas, as the Charlotte-Mecklenburg police described the situation as a "gas crisis" and requested that non-essential travel be avoided.
Patrick De Haan, a top analyst for GasBuddy, said that 78 percent of gas stations in the Greenville area has no gas, 72 percent in Raleigh-Durham stations are out, 71 percent of Charlotte-area stations are out, 69 percent of stations around Greenville are out, and 65 percent of Norfolk-area stations are out.
Authorities with the Charlotte-Mecklenburg police department, describing the situation as a "gas crisis" on Wednesday, told local media that people should limit non-essential travel, check on neighbors, and should not hoard fuel.
"We are going to get through this," CMPD Capt. Brad Koch told WBTV. "Similar to when we have severe weather and we lose a lot of bread and milk at stores."
It comes after a ransomware attack on the Colonial Pipeline system that transports fuel from the Gulf Coast to the northeastern United States. According to an update from the firm on Tuesday, it is still working to re-start the pipeline.
North Carolina update:
78% of Greenville/Spartanburg/Asheville/Anderson stns no gasoline
72% of Raleigh/Durham stns no gasoline
71% of Charlotte stns no gasoline
69% of Greenville/New Bern/Washington stns no gasoline
65% of Norfolk/Portsmouth/Newport stns no gasoline

— Patrick De Haan ⛽️📊 (@GasBuddyGuy) May 12, 2021
Colonial wrote that it is continuing to "make progress" on its efforts to return the pipeline to service, saying that it is working to make deliveries in "Atlanta, Ga., Belton and Spartanburg, S.C., Charlotte and Greensboro, N.C., Baltimore, Md., and Woodbury and Linden, N.J."
Meanwhile, North Carolina Gov. Roy Cooper, a Democrat, issued a state of emergency over potential fuel shortages, saying that it is designed to prepare the state for fuel supply issues and ensure drivers can have access to gas or diesel.
De Haan told The Epoch Times that during fuel shortages, drivers see other drivers sitting in long lines and join them.
"Self-fulfilling prophecy—people see other people, they read about it, and everyone's freaking out," he said. "Whereas smaller communities, they may not be on top of it. People are probably, they're apparently driving around to/from work, they see gas lines and they think 'oh man, I better get it, too.'"
Earlier this week, the FBI confirmed that a cybercriminal gang called DarkSide was behind the ransomware attack, while DarkSide, which is reportedly based in Russia, claimed it is apolitical and only wants to make money.
Zachary Stieber contributed to this report.