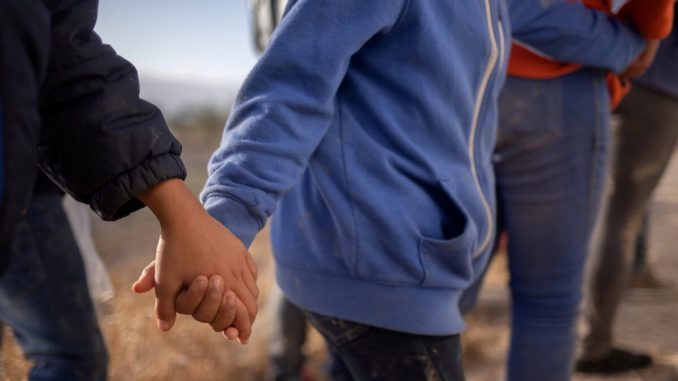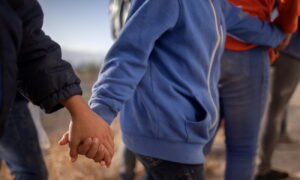 Five unaccompanied minors, all under 7 years old, were abandoned overnight on a farm near the Rio Grande River along the U.S.-Mexico border, according to a Texas couple who found the children on their land Sunday morning.
"This baby and four others under four years old dumped like trash by the river on our farm! All alone, all night, no food no water no adult…nothing…" Kate Coleman Hobbs wrote in a Facebook post, along with photos and videos of the girls sitting on a dirt road.
"No mother, no father, no nothing," Hobbs said in one video. "This is one of our worker's wives right here taking care of this tiny one. No on with these children. Dumped out on the side of the river here on our farm. If this doesn't make you mad and make you want to take to the streets, I don't know what will."
In another video uploaded on Facebook, Hobbs's husband said that one of his farmers found the children by the river.
"This is happening everywhere!!!! Share, make calls, raise hell! Stop this inhumanity! This summer is going to be a killer for many! 110 degrees! Stop! Stop this!," Hobbs added.
Hobbs and her husband alerted local authorities, who then called Border Patrol agents assigned to the Eagle Pass Station.
Border Patrol in a news release later revealed three of the children were Honduran nationals ages seven, three, and two. While the two youngest children were Guatemalan nationals ages five and 11 months.
The girls required no medical attention, according to the release, and were transported to the Uvalde Station for processing pending transfer to Health and Human Services custody.
"It is heartbreaking to find such small children fending for themselves in the middle of nowhere," said Del Rio Sector Chief Patrol Agent Austin L. Skero II. "Unfortunately, this happens far too often now. If not for our community and law enforcement partners, these little girls could have faced the more than 100-degree temperatures with no help."
In late March, two toddlers were dropped over a 14-foot border barrier by smugglers. Border patrol agents were able to rescue the girls after witnessing the act via security cameras. And in early April, an 8-year-old boy was found abandoned in the New Mexico desert.
The Biden administration has been struggling to address the surge of illegal border crossings and has opened numerous temporary holding facilities to meet the demand.