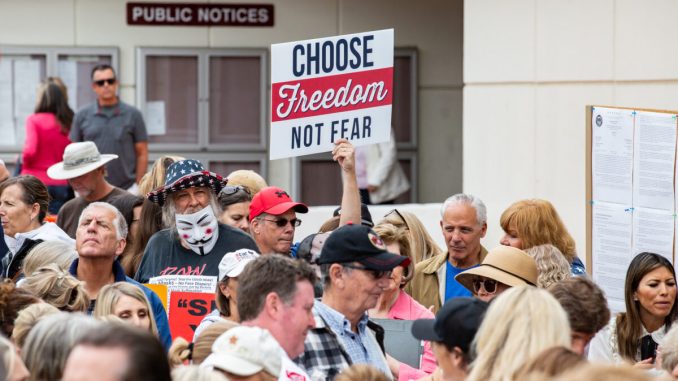 The Orange County Board of Supervisors voted to pause the creation of digital vaccination records after more than 700 people gathered at a May 11 board meeting to oppose the move.
A motion to halt any plans of establishing digital vaccination records was approved during a 4-1 vote, with recently-elected Supervisor Katrina Foley being the sole dissenter.
The motion was created by Chairman Andrew Do after more than 740 people spoke during the meeting to oppose the creation of an optional vaccine verification system. Speakers were limited to 30 seconds each due to the high volume of attendees.
"If anyone follows this board over the last 12 months, you see a board that has worked very hard to stay within what is mandated by the state that we have to follow, and no more," Do said. "We are respectful of people's privacy and private rights. It is a challenge to balance between public health needs and personal rights, and I believe we have done a good job in balancing that."
"But be that as it may, we have come to the point where the noise around this whole vaccine passport has reached a point where it's becoming counter counterproductive."
He instead proposed halting any discussions of establishing a digital vaccine record, and instead using the hardcopy Centers for Disease Control and Prevention (CDC) card as proof of inoculation.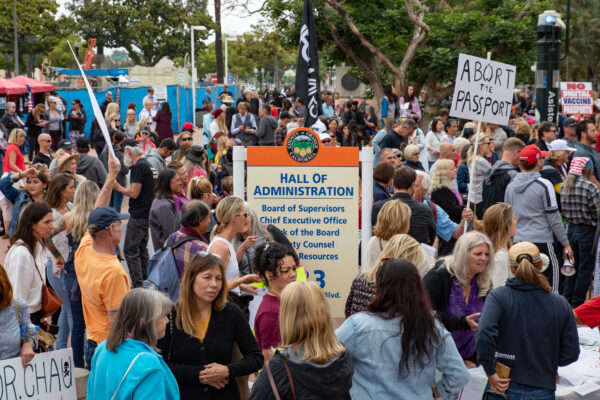 It will now be up to residents to keep track of their white CDC paper card, Do said, because if it is lost there will be no digital equivalent to replace it. Those who lose the card will need to ask whoever they received the vaccine from for a duplicate.
Supervisor Don Wagner quickly backed Do's motion, but added the idea was never to use a digital vaccine record to restrict the freedoms of the non-vaccinated.
"I want to read the reference to passports that's in the document in front of us," Wagner said. "I wrote it. The contract ad hoc committee agreed to it. This is the sole discussion of passports in our contract, 'Whereas the parties intend that no work done under this contract, be used now or in the future to create a vaccine passport to limit travel or access to county government services.' It can't be clearer."
Supervisor Lisa Bartlett told The Epoch Times via text message that the May 11 board meeting had the highest number of public speakers for any board meeting since she was elected to office in 2014.
During discussion on the topic, Foley said she could not support the motion because she felt that the "super majority" of the community does support having a digital record.
"It's critical to our economic engine here in Orange County, which is really dependent upon tourism, theme parks, sporting events, and concert venues that will be now inconvenienced from being able to have maximum capacity because most sales are online and are digital," Foley said, arguing that businesses cannot check vaccination proof when selling tickets online if vaccinated residents do not have a digital option.
"We are appeasing a very small faction of our community who actually, they're not going to get vaccinated. They've already told us they don't believe in vaccines."
She said many of the people who spoke up against the vaccine passport during the May 11 meeting were the same individuals who rallied against masks outside her home last summer.
"Many of them went to the Capitol and ravaged our most sacred justice and capitol system," Foley said. "We should not cater to people who are spreading misinformation and lies."
Wagner later shot back at the comment, saying her characterization of those against digital vaccine records was not correct.
"My good colleague from District Two says that we only have a small minority of right-wing activist, anti-vaxxers, etc., who are here speaking to us," Wagner said. "She knows that's not true. I know that's not true because I got some of the very same text messages from the Hispanic Chamber (of Commerce) that she did. The Hispanic Chamber, I assure you, would be very surprised to be characterized as a small minority of right-wing anti-vaxxers. They are representing in part one of the most disadvantaged communities that most needs to be vaccinated."
The board said that since the contract with Composite Apps was already signed April 29, its material terms will not be changing. However, at work relating to developing vaccine verification for third party entity use will be stopped.
Those who received their vaccinations through the Othena app will still be able to view the dates they received their vaccination, but it is not something that can be used by businesses as proof of vaccination.
If the board ever decides to consider using a digital record or QR code, it will need to agendize the item and address it publicly.