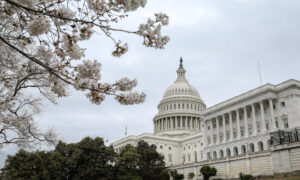 Congressional Republicans voted much more strongly against wasteful federal spending in the months leading up to the 2020 election than they did in 2019, according to data compiled by Citizens Against Government Waste (CAGW).
Many of the same Republicans in the House, however, voted earlier this year to support a Democratic proposal to restore earmarks, the individual provisions in much larger bills that direct tax dollars to projects in an individual congressman's state or district, often inserted by congressional leaders in return for the member's support of the overall measure.
"For 2020, 16 senators and 80 representatives earn the coveted title of 'Taxpayer Super-Hero' by achieving the highest possible score of 100 percent. In 2019, two senators and 27 representatives received a perfect score," CAGW said in a May 10 statement.
"For 2020, there are 33 'Taxpayer Heroes' in the Senate and 105 in the House of Representatives. In 2019, there were 14 'Taxpayers Heroes' in the Senate and 135 in the House.
"At the other end of the spectrum in 2020, nine senators and 176 representatives have a score of zero. In 2019, 38 senators and 34 representatives had a score of zero."
The CAGW ratings were based on 35 House votes and 11 Senate votes during the second session of the 116th Congress in 2020. Members receiving the highest ranking voted 100 percent of the time in agreement with CAGW's position.
Those receiving the next highest ranking supported the non-profit's anti-wasteful spending position at least 90 percent of the time.
Republicans controlled the Senate in 2020 52-48, while Democrats controlled the House, 232-196.
All of the highest rated senators and representatives in 2020 were Republicans, while all of the zero-rated members were Democrats.
The Taxpayer Super Heroes for 2020 in the Senate included senators John Barrasso of Wyoming, Marsha Blackburn of Tennessee, Mike Braun of Indiana, Bill Cassidy of Louisiana, Michael Enzi of Wyoming, Deb Fischer of Nebraska, James Inhofe of Oklahoma, Ron Johnson of Wisconsin, James Lankford of Oklahoma, David Perdue of Georgia, Ben Sasse of Nebraska, Tim Scott of South Carolina, Rick Scott of Florida, Thom Tillis of North Carolina, and Todd Young of Indiana.
The lowest ranked Republicans included Sen. Susan Collins of Maine with a 50, and Sen. Cory Gardner of Colorado and Sen. Lisa Murkowski of Alaska, each with a 67.
The highest ranked Senate Democrat was Sen. Joe Manchin of West Virginia with a 31.
Democrats with a zero ranking included senators Cory Booker of New Jersey, Kirsten Gillibrand of New York, Kamala Harris of California, Edward Markey of Massachusetts, Jack Reed of Rhode Island, Bernie Sanders of Vermont, Brian Schatz of Hawaii, Chuck Schumer of New York, and Sheldon Whitehouse of Rhode Island.
Senate Republicans scored an average ranking of 90 percent, compared to Senate Democrats at 9 percent. In the House, Democrats scored an average ranking of 2 percent, while Republicans were at 90 percent.
The highest scoring House Democrat was Rep. Ben McAdams of Utah with a ranking of 31 percent. A total of 80 House Republicans received 100 percent ranking, while 176, or 76 percent, of the House Democrats compiled a zero ranking.
Rep. Brian Fitzpatrick of Pennsylvania was the lowest ranking House Republican with a score of 15 percent.
The Senate votes on which the rankings are based included five on relief measures related to the CCP Virus that is also known as the novel coronavirus.
The House votes included five requiring reductions in total federal spending on specific government programs. All five of those proposed reductions were defeated.
Tom Schatz, CAGW President, told The Epoch Times Tuesday that the differences between 2019 and 2020 scores is due in part to the higher number of votes in the latter than the former year.
"The 90 percent Senate Republican average in 2020 is closer to the usual Republican number, compared to the 64 percent average in 2019," Schatz said.
"The Senate Democratic average of 9 percent is a higher than the usual Democratic average because there are only 10 votes. Since one of those votes was passage of the United States-Mexico-Canada Agreement (USMCA), more Democrats than usual got at least one vote correct, which both raised their average and cut the number of zeros from 38 to nine," Schatz continued.
"If there had been as many votes in the Senate as in the House, one correct vote would have led to a rating of three rather than 10.  Based on the votes so far in both the House and Senate, CAGW expects to have a larger number of votes to rate in 2021," he said.
Schatz also noted that House Republican support for earmarks, which were banned in 2011 as a result of the Tea Party Revolution in the 2010 elections, weakens the GOP's claim to be the party for limiting federal spending.
"After House Republicans agreed to the Democrats' proposal to restore earmarks and began asking for them soon thereafter, one of the reputational advantages Republicans had as the more fiscally conservative party was reduced," Schatz said.
"They will still argue that President Joe Biden's spending bills are too big and the tax increases are unnecessary, but the more they participate in earmarks, the less credibility they have to make these arguments," he continued.
"But earmarks can be used to entice them to vote for spending levels in all three bills that would still be more than they would ordinarily support, and they could also be used in exchange for support of smaller tax increases.
"As CAGW has said about earmarks since the first Congressional Pig Book was issued in 1991, earmarks are a form of legalized bribery, and this time that process could be more costly to taxpayers than ever."