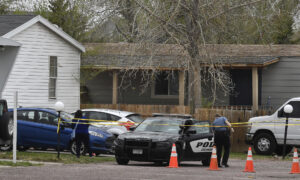 Authorities in Colorado Springs, Colorado, said the suspect who opened fire at a weekend birthday party, killing six, was angry because he wasn't invited.
"At the core of this horrendous act is domestic violence," Chief Vince Niski said, reported the Denver Post. "The suspect… displayed power and control issues. When he wasn't invited to a family gathering, the suspect responded by opening fire."
He was identified as 28-year-old Teodoro Macias by Colorado Springs police Lt. Joe Frabelle, who also told The Associated Press on Tuesday that Macias had been in a relationship with one of the victims for about a year and had a history of jealous and controlling behavior.
Macias had no reported domestic violence incidents. He also didn't have a criminal history, Frabelle said.
Identities of the victims were released on Monday by family members: Melvin Perez, 30; Joana Cruz, 54; Jose Gutierrez, 21; Mayra Perez, 32; Sandra Ibarra; and Jose Ibarra. The family, friends, and children were celebrating inside a mobile home at the Canterbury Manufactured Home Community, according to The Gazette.
"My mom had always liked celebrating them together," said Nuvia Marquez, who was at the party with her husband, Freddy Marquez, according to the paper.
Macias is believed to have taken his own life after the shooting, authorities said.
Authorities had yet to release the names of the victims and gunman and to disclose a possible motive. The El Paso County Coroner's Office was still identifying the victims. No children were hurt, and all were placed with family and friends.
Colorado Springs Mayor John Suthers previously described the attack as a "senseless act of violence."
"Today we find ourselves mourning the loss of lives and praying solemnly for those who were injured and those who lost family members," Suthers said in a statement. "We think, too, of the emergency personnel who responded to a horrific scene and we keep them in our prayers today."
After a recent mass shooting in Boulder, Colorado Democrats introduced a bill to create a state "Office of Gun Violence Prevention" to provide information about gun safety and collect data on shootings in the state. Other bills advancing through the Democrat-led Legislature would tighten background checks, allow municipalities greater freedom to adopt their own gun control laws that are stricter than state law, and require a person facing a protection order related to alleged domestic violence to report what firearms they possess.
The Associated Press contributed to this report.