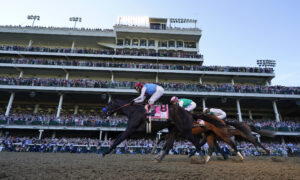 The winner of the Kentucky Derby, Medina Spirit, was treated with an ointment that included betamethasone, said its trainer, Bob Baffert.
Medina Spirit, a thoroughbred race horse, failed a post-derby drug test for the anti-inflammatory steroid betamethasone, putting the horse's race into question.
Baffert, in a statement released by his lawyer, said the horse was treated with an ointment.
"Following the Santa Anita Derby, Medina Spirit developed dermatitis on his hind end. I had him checked out by my veterinarian who recommended the use of an anti-fungal ointment called Otomax. The veterinary recommendation was to apply this ointment daily to give the horse relief, help heal the dermatitis and prevent it from spreading," the statement released Tuesday reads.
Betamethasone is allowed in horse racing, but Medina Spirit's test detected 21 picograms per milliliter, which is more than double the allowed limit for a drug test.
"While we do not know definitively that this was the source of the alleged 21 picograms found in Medina Spirit's post-race blood sample, and our investigation is continuing, I have been told by equine pharmacology experts that this could explain the test results. As such, I wanted to be forthright about this fact as soon as I learned of this information," Baffert's statement also said.
"Medina Spirit is a deserved champion and I will continue to fight for him," Baffert continued to say. His lawyer told ESPN that the plan is for the horse to race during the Preakness on Saturday.
Baffert has since been banned from entering any of his horses at the Kentucky Derby, an annual race at the Churchill Downs track in Louisville.
Earlier, the trainer said that the horse wasn't treated with betamethasone.
"They know everything we give them and we have to write it down, we turn it in. So they know every medication this horse has gotten and betamethasone is not one of them," Baffert said this week in an interview with CNN. "That's the troubling part of it. He wasn't administered that drug."
According to reports, a second blood test sample will now be administered, but that will not be available for at least four to eight weeks. If the blood sample comes back positive, Medina Spirit will lose the Kentucky Derby prize, and second-place Mandaloun will be named the winner.
Meanwhile, the $1.86 million first-place prize will be handed over to Mandaloun.
Former President Donald Trump weighed in on the scandal this week, saying that it is "emblematic of what's happening to our country."
"So now even our Kentucky Derby winner, Medina Spirit, is a junky … The whole world is laughing at us as we go to hell," he added.