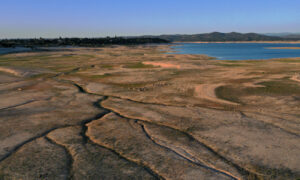 Gov. Gavin Newsom on Monday extended a drought emergency declaration to most of California amid what he called "acute water supply shortages" in northern and central parts of the state.
The drought declaration now includes a total of 41 of California's 58 counties, which will cover some 30 percent of approximately 40 million California residents. An earlier emergency declaration had covered two counties north of San Francisco on the Russian River—Mendocino and Sonoma.
"It's self-evident to many folks that the hots are getting a lot hotter in this state, the dries are getting a lot drier," Newsom, a Democrat, said at a press conference on Monday. "We have to recognize that we are living in a world that we were not designed to live in. We have a conveyance system, a water system, that was designed for a world that no longer exists."
Newsom directed the state's water board to consider changing some rules for reservoir releases and take other conservation measures, to keep more water upstream. He did not issue any mandatory drought conservation measures, but he did urge residents to limit their use of water.
California's natural resources secretary, Wade Crowfoot, said that mandatory orders may be an option if the coming winter looks to be a dry one, reported the Sacramento Bee.
"Just three weeks ago, we were going to flex up based upon need. We'd look at the issue of hydrology, we'd look at the issue of snow melt, we'd look at the issues of preparedness and we do so in real time," Newsom said. "Accordingly, we make that commitment in an interim process as we move forward into the second year of a drought, to keep an open mind and to be mindful of the dynamics and the changing conditions as it relates to hydrology, snow melt, storage, conveyancing, and the like in this state."
The state has in the past few weeks lost more runoff than anticipated—equivalent to what Newsom said was akin to "one million households receiving water for a year." He said part of why the issue is worse is because the snow melt was "so acute" that it seeped into the ground instead of flowing into reservoirs or rivers.
According to the U.S. Drought Monitor, most of California and the American west is going through an "extreme" or "exceptional" drought.
The declaration comes after the governor had proposed a $5.1 billion package to cover a number of immediate and long-term drought-assistance measures.
Newsom is facing a recall election over his handling of the CCP (Chinese Communist Party) virus pandemic.