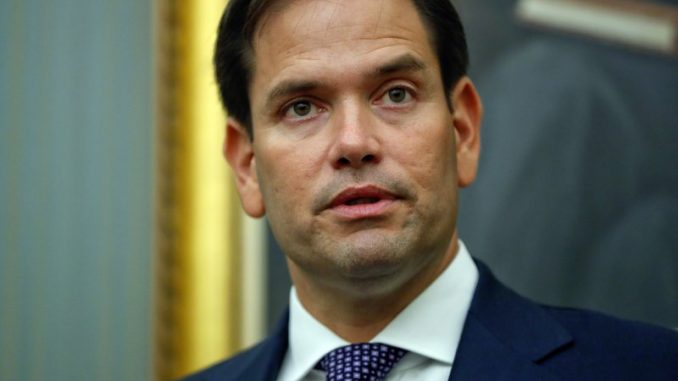 OAN Newsroom
UPDATED 2:02  PM PT – Monday, May 10, 2021
Sen. Marco Rubio (R-Fla.) said China has "deputized major U.S. companies to push for policies that help China."
In an interview Friday, the Florida lawmaker noted how companies these days appear all too willing to do what it takes to make sure they capture business in China. He said business leaders cave to Chinese demands then come back to the U.S. and argue the Chinese government is mistreated, while claiming there is a lot of opportunity there.
"For some of these companies around the world, their CEOs are judged on a quarterly basis," stated Rubio. "If the Chinese kick you out of their economy, that's gonna be a big hit in your revenue and your shareholders are gonna be unhappy."
This was particularly seen in 2019 after the general manager of the Houston Rockets tweeted his support of Hong Kong, in turn, prompting the NBA to denounce the tweet and creating outcry from Chinese fans.
According to reports, major U.S. companies like General Motors sell more products in China than anywhere else in the world. China is a $660 billion market for the American economy.
Rubio said China has utilized capitalism against us, deputizing major American corporations and their leaders to push for policies that favor the Chinese position. This follows China's use of its own pressure on business leaders to play by its rules or risk losing business in the country.
"And I think that becomes really problematic for people…you might be a mid-sized business, but your supply chain depends on you making your product in China because it's the only place you can make it cheap enough to sell it back here in the United States," Rubio continued. "And they make it pretty clear to you that unless you do what they're asking you to do or if you step out of line, they'll close your factory."
Rubio said people like Apple CEO Tim Cook aren't able to speak their mind about China due to the risk of losing supply and production capacity in the country.
Former Attorney General William Barr last year slammed companies like Google, Microsoft and Apple as well as Hollywood elites for being too willing to collaborate with the Chinese Communist Party. Barr said they were too focused on short-term profits and called U.S. tech companies "pawns of Chinese influence."