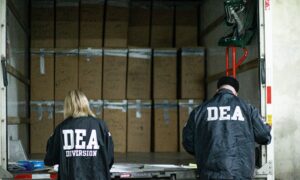 A notorious Mexican drug cartel is attempting to gain a foothold in the Seattle area and the Pacific Northwest, according to federal drug investigators.
Mexican criminal group the Jalisco New Generation Cartel (Cartel Jalisco Nueva Generación, or CJNG), has been on the U.S. Drug Enforcement Administration's (DEA) radar in recent years, and now, officials from the Department of Homeland Security's (DHS) Homeland Security Investigations say its operations extend nationwide, with notable activity in Washington state.
Mexico's fastest-rising cartel has a presence in at least 20 Mexican states, as well as Mexico City, with its base of operations in Jalisco and Colima.
According to the Insight Group, CJNG, established in July 2010, is known for its aggressive use of violence and its public relations campaigns. It uses videos and social media to threaten rivals while promising civilians that it won't prey on them with extortion and kidnappings.
DHS officials say the cartel is currently the primary group behind a drive to bring illicit fentanyl into the United States. Fentanyl, a synthetic opioid, is 100 times more potent than morphine.
Robert Hammer, the special agent-in-charge with the DHS' principal investigative arm, told KOMO News that the cartel is "a huge threat to the stability" of the Seattle area and the Pacific Northwest.
Hammer noted that the group has illegally displayed its weaponry and armoured vehicles in Mexico through recently published videos, in which members also praise the cartel's boss Nemesio Oseguera Cervantes—alias "El Mencho." El Mencho has become one of Mexico's most wanted, and is also one of the DEA's most-wanted fugitives, with a $10 million price on his head.
"The display of weapons shows one thing," Hammer told the news outlet. "But if you actually go back and look at what they've done with those weapons, what they've done with the mass killings, what they've done with the destruction of a human to convey the message that they are not to be messed with."
"Whether it's ripping the fingernails out of somebody's hands as sending a message to them or tying them up in a tree in the middle of Central Washington to die or dismembering them and shipping their remains off, they're there to deliver an effective message," Hammer added. "Which is don't mess with us."
CJNG, Hammer continued, is trafficking fentanyl not only in the Seattle region but in middle Washington and Southeast Washington.
In the past, fentanyl had mainly been mixed into heroin to boost the high, but now it's often pressed into small blue tablets and stamped with "M30" to closely match the color and markings of prescription oxycodone pills.
Buyers may be unaware the pills contain fentanyl, of which a 2mg dose can be fatal.
Homeland Security Investigations in the fiscal year 2020 seized 6,105 pounds of fentanyl nationwide, making 31,915 criminal arrests alongside operations.
"I think it's something that should be eye opening to some of the stories that have taken place across this region," Hammer said. "It's not limited to just downtown Seattle. This is really a regional problem that we've seen with the cartel activity and its requiring a multi-faceted approach by law enforcement to get after it."
Charlotte Cuthbertson and The Associated Press contributed to this report.