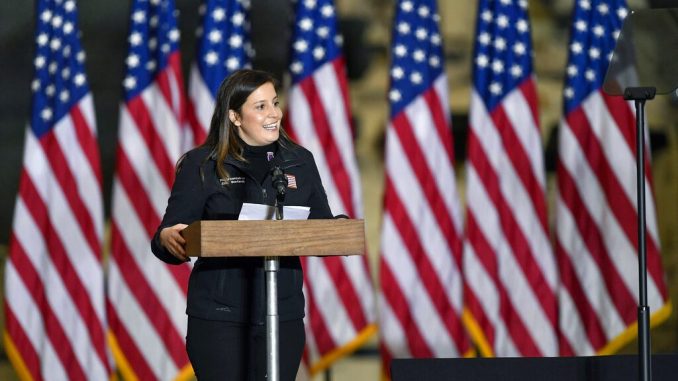 OAN Newsroom
UPDATED 1:58 PM PT – Monday, May 10, 2021
On Sunday, House Minority leader Kevin McCarthy (R-Calif.) publicly announced his support for Rep. Elise Stefanik (R-N.Y) to replace Rep. Liz Cheney (R-Wyo.) as GOP conference chair. McCarthy said the chair needs to be the messenger for unity within the party as well as someone who can fight back against Democrats' failed immigration, employment and economic policies.
Earlier in the week, House Minority Whip (R-La.)  also endorsed Stefanik. Scalise claimed Stefanik is focused in on the 2022 midterm elections while Cheney is stuck on President Donald Trump's response to the 2020 Presidential Election.
🚨🚨🚨 Honored to earn the support for House GOP Conference Chair from President Donald J. Trump 🚨🚨🚨

Read his statement from today: pic.twitter.com/C7S3ibOfJl

— Elise Stefanik (@EliseStefanik) May 10, 2021
Cheney's power and popularity began to steadily decline following her continued public attacks against President Trump. She challenged his response to the COVID-19 pandemic and his calls to look into potential voter fraud. What sealed her fate, however, was her support for Democrats attempts to impeach President Trump after the January 6 breach on the U.S. Capitol building.
Alternatively, Stefanik has received a glowing endorsement from President Trump who is confident she will prioritize America First polices.
Other top GOP leaders have also commended her stances on important conservative issues, which include passing anti-abortion legislation, securing future elections and protecting Second Amendment rights. Additionally, GOP leaders have said Stefanik is the top choice to help Republicans take back the House from Democrats.
There will be a House GOP conference meeting on Wednesday, where House Republicans will officially vote for who will replace Cheney. Although if chosen as conference chair, Stefanik reported that she'd only stay on through 2022 to help the party get through the midterm elections.