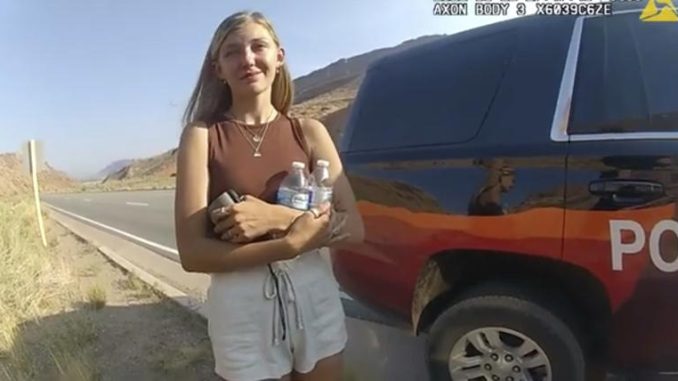 OAN Newsroom
UPDATED 2:00 PM PT – Monday, August 8, 2022
Nearly a year after Gabby Petito's interaction with Moab Police, her family files a $50 million wrongful death suit. Lawyers for the family outlined the plans Monday and said they are suing the Moab Utah Police for negligence of the law and how to enforce it. They said their goal is to hold government entities accountable and raise awareness of intimate partner violence and its dangers. Gabby first interacted with Moab Police on August 12, 2020 when they responded to a domestic dispute call.
The parents of Gabby Petito have filed a $50 million wrongful death lawsuit against the Moab Utah Police Department. Moab police had been called after a witness accused Brian Laundrie of hitting Petito. pic.twitter.com/PADrcVh8LN

— Mike Sington (@MikeSington) August 8, 2022
Her fiancé Brian Laundrie is believed to have beaten and strangled her before later taking his own life. Family members added they want to prevent further tragedies. The lawyers didn't share specific evidence but said the FBI uncovered extensive information during the search for Gabby.
Petito was 22 when she was reported missing in September 2021. She was on a months-long cross country trip living in a van with Laundrie. Petito's body was found in Bridger Teton National Forest in Wyoming on September 19, 2021. It was determined she had been dead for at least three weeks when she was found. Laundrie was found dead from a self-inflicted gunshot wound in Florida's Carlton Reserve in October 2021. He admitted to killing Petito in writings that were found after his death, officials have said.
The suit will center on a police encounter with Petito and Laundrie on August 12, 2021, during their trip in Utah, shortly before her death. That interaction made headlines following Petito's disappearance, with body camera footage released showing Petito visibly distraught. According to the police report, Petito told officers she had slapped Laundrie and hit him first and that he had grabbed her face. But ultimately, both Petito and Laundrie said that they did not want to press charges and that they loved each other.
"While the full evidence has not yet been made public, when it is released, it will clearly show that if the officers had been properly trained and followed the law, Gabby would still be alive today," James McConkie, another of the family's attorneys, said in the press release. "Failure to follow the law can have deadly consequences, as it did in this case."
The department has 60 days to respond to the suit.