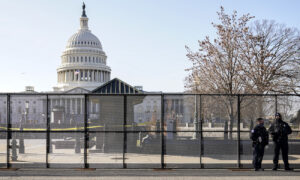 Attorneys defending suspects charged with offenses related to the Jan. 6 U.S. Capitol breach are receiving crime scene tours of the building in May and June.
Federal prosecutor U.S. Attorney Emory Cole made the disclosure in a letter (pdf) to the court in late April in a case for one of the defendants. The letter stated that the U.S. Capitol Police had arranged five crime scene tours of the U.S. Capitol beginning on May 3, with the last tour being on June 4.
Among the sites included in the tour were House Speaker Nancy Pelosi's (D-Calif.) office, the Speaker's lobby outside of which where Ashli Babbit was shot and killed by a Capitol Police officer, the House and Senate chambers, and the Rotunda. The U.S. Capitol is still currently closed to visitors due to COVID-19 measures.
The tours are restricted to the defense lawyers and recordings and photographs are not permitted, according to Cole.
The first tour was conducted by Capitol Police Inspector Thomas Loyd and attended by dozens of defense attorneys, CNN reported. The tours are important for defense attorneys to be given access to evidence to help them prepare their case.
More than 400 defendants were charged in relation to the breach. A majority of cases are related to entering a restricted building, obstruction of an official proceeding, and civil disorder, according to the Justice Department. Federal authorities are still looking for suspects connected to the breach.
Earlier this month, the DOJ announced that authorities had arrested a member of the Wisconsin National Guard and his friend for alleged participation of the incident.
The soldier, Abram Markofski, is facing four charges in relation to the protests including entering and remaining in a restricted building or grounds, disorderly and disruptive conduct, violent entry or disorderly conduct, and parading, demonstrating, or picketing in a Capitol building.