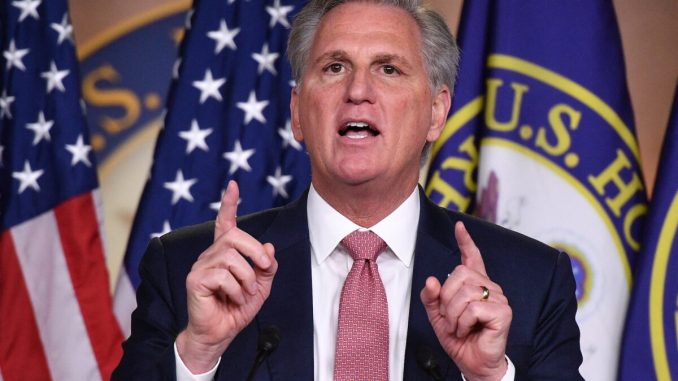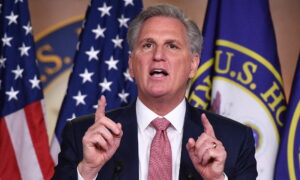 House Minority Leader Kevin McCarthy (R-Calif.) said that President Joe Biden's infrastructure proposals would create significant inflation, which would thereby act as a "tax" for people who make less than $400,000.
Biden and his deputies have said they would not raise taxes on people making less than $400,000 per year. However, due to the sheer size of his two infrastructure proposals, worth about $4 trillion, some economists have warned that it would trigger significant inflation.
"When the president talks about not raising taxes on people under $400,000, that's a lie. Every day you watch the inflation that he is creating. This is the Biden Tax," McCarthy said on Sunday morning in an interview with John Catsimatidis on his radio show on WABC 770 AM.
The House Republican leader said that with these multi-trillion-dollar bills, "there's just waste, fraud, abuse, but more importantly, corruption."
McCarthy, in an attempt to cite an example of wasteful spending, noted that about 6 percent of one of Biden's infrastructure proposals would actually go to infrastructure.
He added adding that a provision would significantly invest in electric cars although there appears to be slow demand for them. According to the White House, Biden's plan would include some $174 billion to "win the EV [electric vehicles market" and "will enable automakers to spur domestic supply chains from raw materials to parts, retool factories to compete globally, and support American workers."
"Less than three percent of America have an electric car, but they want the government to subsidize it," McCarthy said Sunday. "And what they will do is raise the utility costs, a tax on all Americans."
Biden has said that he will pay for the infrastructure plans by raising the corporate tax rate from 21 percent to 28, which Republicans and some Democrats like Sen. Joe Manchin (D-W.Va.), have rejected. He also proposed a tax on people making more than $400,000 per year.
Along with traditional infrastructure projects such as repairing or building roads and bridges, Biden's packages would include funding to expand broadband Internet, revamp water lines, and boost care for children and the elderly.
Republicans have proposed their own, scaled-down $568 billion infrastructure plan, which leaves out climate change proposals and provisions to care for the disabled.
The White House has reportedly said that Biden will host Republicans, including Senate Minority Leader Mitch McConnell (R-Ky.) and some senators, at the White House in the coming week.
"My hope is that if the president is unable to convince the narrow Democratic majority in the House and the 50-50 Senate to pass the $4.1 trillion bill, we can sit down and have a serious conversation," McConnell said last week, reported the Wall Street Journal.
The Epoch Times has contacted the White House for comment.