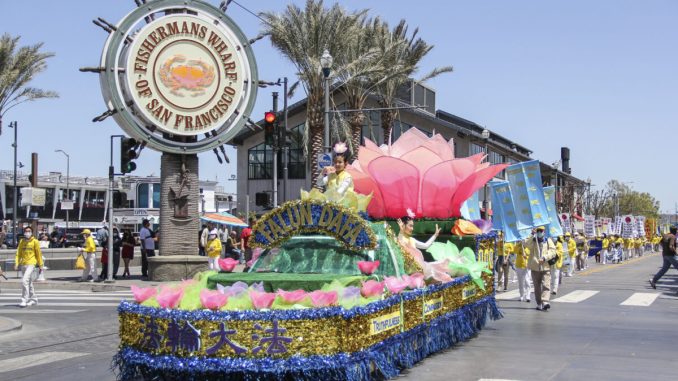 SAN FRANCISCO—A truck with LED electronic billboards drives by, distinguishing itself from the rest of the city's traffic. The colorful screens, which are mounted on three sides of the vehicle, continuously play videos of people doing slow-moving exercises. At the front, a flower-bordered sign reads: "Falun Dafa is Good."
Dan Ngo, a local Falun Gong practitioner, owns the truck. He put a lot of effort into getting the truck ready in time for the parade to celebrate World Falun Dafa Day, which officially takes place on May 13 each year.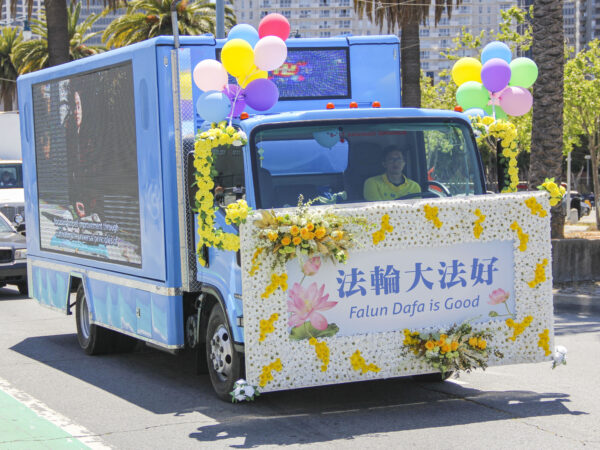 His goal is to draw attention so that more people can see what Falun Dafa, also known as Falun Gong, is all about.
"The truck actually brings out new ideas for people to look at," Ngo told NTD News. "The content actually gets people to actually see what it is."
He started learning Falun Gong in 2017, initially just to please his wife. However, after he started to read the practice's main book "Zhuan Falun" and applied its teachings, he became a better person.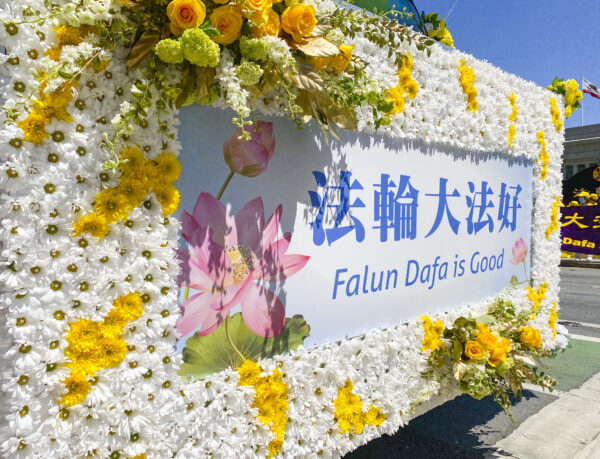 "I'm actually a way better father," he said. "Everything I do, before I say anything, I actually look internally now. Business-wise, work-wise, I [look at] everybody with a different perspective… and the three words, I always remember [them] everyday."
Falun Gong's teachings are based on the principles of Truthfulness, Compassion, and Tolerance. Along with doing the five sets of exercises, practitioners live a healthy life in harmony with their surrounding environment.
Leader of the Band
Abraham Thompson leads the Tian Guo Marching Band. He has been a Falun Gong practitioner for almost 20 years.
He first learned it from a friend in Santa Cruz. He bought "Zhuan Falun" and couldn't put it down.
"I was very attracted to this book and the principles within it—to upgrade your moral character and to put Truthfulness, Compassion, and Tolerance into your life to become a better and better person, and raise yourself spiritually. Those things really were attractive to me," Thompson told NTD News.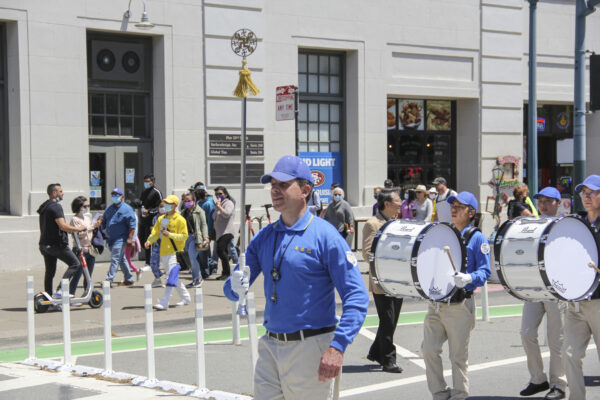 He said he always felt there was more meaning and a bigger purpose to life. When he put those principles into practice, he felt that his life improved.
"The first thing I noticed is I became more happy," he said, "when I started becoming more truthful, when I started thinking about other people first, putting compassion into my life. When I started being more tolerant of people, I started to become more happy because I wasn't upset by the way other people treated me. If someone did something bad to me, I would say, 'Well, how can I improve?' rather than asking how other people could improve."
He also became more clear-minded and focused on what's important to him in life.
After the persecution started in China in 1999, he wondered what he could do to tell people about Falun Gong and the truth of the practice.
The marching band was first formed in New York and they wanted to expand by creating one in San Francisco too.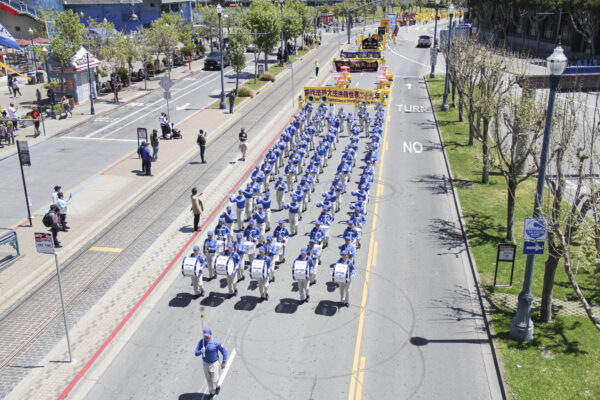 "Some of us local practitioners, we said, 'Let's pull people together and start a band,'" Thompson said. "I have experience with music from the past in percussion and so I started helping to develop the drum team. And then they needed a conductor and I was good with rhythm, and so I naturally became the conductor."
He said he feels really positive when he marches with the whole band and sees bystanders clapping along and enjoying the music.
"That's really at the core of us, is wanting to share the beauty of Falun Dafa with the community because we've all benefited so much from it. But we also want to help the people in China who are being persecuted," he said.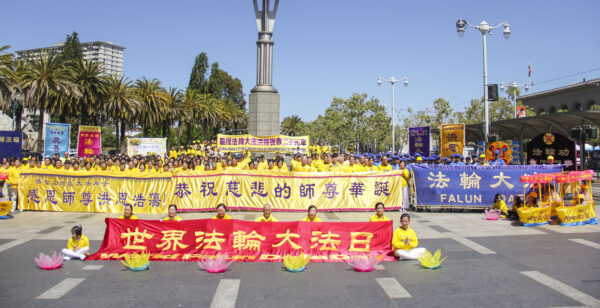 Many pedestrians stopped to watch one of the first large-scale parades since the pandemic and lockdowns started.
"The magnitude of all the people just coming together and just the peace and then the beautiful wind. I think God just kind of sent that, at the time that everyone was marching down the street. It's just very spiritual," Dawn, a Sacramento resident, told NTD News.
She came to the city with her family for the weekend to celebrate Mother's Day.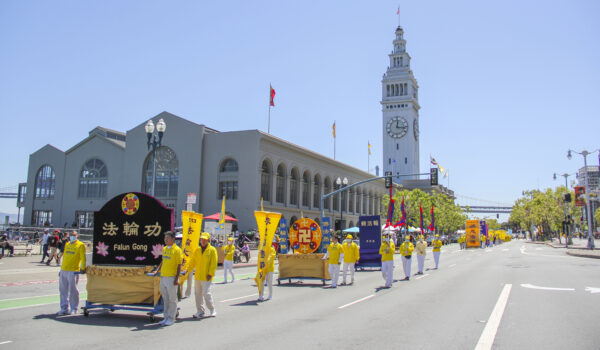 "This is gorgeous," Renuka Zellars, from India, told NTD News. "I love the music… the meditation. I would like to learn more about it."
"When I first saw it, I had goosebumps because it was so touching, so soothing—meditation. That's what we need nowadays in this world, right? This is a great feeling. I love it," Zellars said.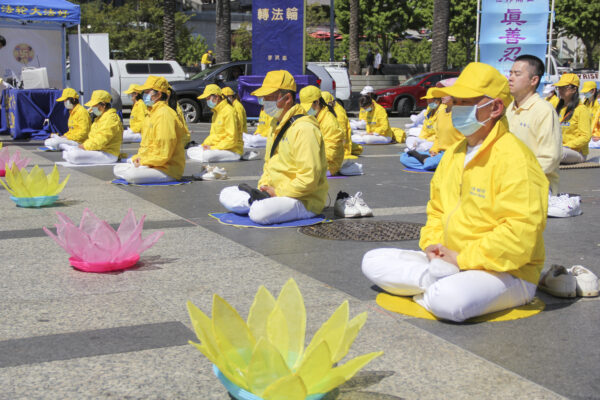 "It's very beautiful and I feel like it's very empowering, and I feel like it sends a message," Irene Brizuela, from Silicon Valley, told NTD News. "Peaceful, like a peaceful vibe."
"Meditation is good for the soul, especially given the year we've had," Sheila Beakin, from Laguna Beach, told NTD News.