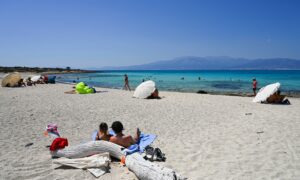 Travel industry leaders have complained the UK government's plan to reopen international travel in the wake of the COVID-19 lockdown is "overly cautious," and have called for the top European holiday destinations to be added to the quarantine-free "green list."
Transport Secretary Grant Shapps announced on Friday that Britain will allow international travel to resume from May 17, but just 12 countries and territories made the so-called "green list," which include Portugal, Israel, New Zealand, Australia, and the tiny Faroe Islands.
Garry Wilson, chief executive of EasyJet Holidays, said: "The good news is travel is reopening and our customers can look forward to those well-earned breaks in the summer that they've been waiting many months for.
"I think the very disappointing news is just the number of countries that are on the list, and if you look at European countries there's very few, and of those European countries the major holiday destination is Portugal.
"So we did think it was very cautious and it is really not aligning with the approach the government has taken to open up domestic travel and we don't think it is backed up by the science or the data," he told BBC Breakfast on Saturday.
Wilson said he believes that places like the Greek Islands, the Balearic Islands, and the Canary Islands "actually do meet those criteria and should be on that list."
Virgin Atlantic said the United States should also be added to the green list.
"There is no reason for the U.S. to be absent from the green list," a spokesman said. "This overly cautious approach fails to reap the benefits of the UK's successful vaccination programme."
Airlines UK, an industry body which represents UK carriers, said the government must make "major additions" to the green list at the next review point in three weeks.
"This is a missed opportunity and, with so few countries making it on to the green list, represents a reopening of air travel in name only," said Chief Executive Tim Alderslade.
But Shapps told a Downing Street press conference on Friday that the government must "make absolutely sure" the countries the UK reconnects with are safe from the CCP (Chinese Communist Party) virus.
"We in this country have managed to construct a fortress against COVID. But the disease is still prevalent in other parts of the world, most notably at the moment in India," he said.
PA and Reuters contributed to this report.