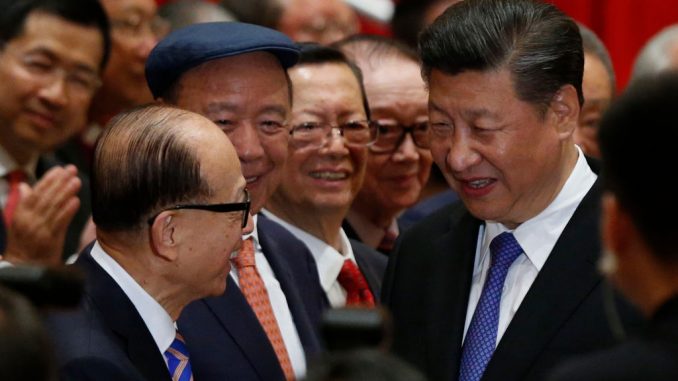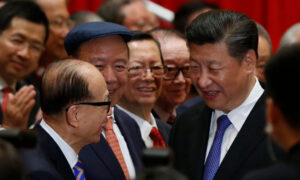 On May 4, Robin Zeng Yuqun, a new immigrant from mainland China, replaced Li Ka-shing as the richest man in Hong Kong when his net worth soared along with the company's stock prices. In the context of Beijing's "patriots ruling Hong Kong," his new status attracted additional attention.
In Forbes' real-time billionaires list, Zeng's net worth stood at US$34.5 billion that day, surpassing Li by US$0.2 billion.
However, on May 6, Zeng's wealth dropped to US$34.1 billion putting Li Ka-shing back on the throne as Hong Kong's richest man.
According to Forbes, Zeng, is founder and chairman of Contemporary Amperex Technology (CATL), one of the world's largest suppliers of batteries for electric vehicles, headquartered in Ningde, Fujian Province.
With reference to Forbes' April 6 data, Zeng's wealth increased by more than US$6 billion in just one month.
According to a Chinese finance report, Zeng owns a 24.53 percent stake in CATL. The market boom of electric vehicles helped his wealth grow.
He gained residency in Hong Kong following the Quality Migrant Admission Scheme of Hong Kong in 2005.
Does Beijing trust tycoons in Hong Kong?
In Sept. 2010, Xi Jinping, then vice chairman of the regime, did an official tour to Ningde and asked local officials to "expand on large projects and leap on development."
The next year, Zeng established CATL in his hometown, Ningde.
CATL was listed on the Second-board Market of the Shenzhen Stock Exchange at an initial stock price of RMB 25.14 ($3.91) on June 11, 2018. CATL's initial market value was RMB 54.6 billion ($8.48 billion).
Before the listing, its share values were being touted by the Chinese brokers. For instance, Caitong Securities stated that CATL was expected to become a leader in power batteries in China and even the world.
At the end of 2020, the Chinese State Council launched the "New Energy Automobile Industry Development Plan (2021-2035)" to promote development of the new energy automobile industry, which raised CATL stock price once again. Based on the opening price of RMB 111.3 ($17.22) on Jan. 6, 2020 and the closing price of RMB 388.17 ($60.05) on April 30, 2021, the stock price of CATL rose by 249 percent in that time. As of April 30, CATL had a market value of RMB 904.2 billion ($139.87 billion).
At present, CATL's Chinese market partners include electric vehicle makers such as Tesla, Geely Automobile, and NIO, as well as traditional automobile manufacturers such as FAW-Volkswagen and BMW Brilliance.
Zeng gaining the richest man in Hong Kong title was reported frequently in China and Hong Kong. However, when CATL stock price fell two days later and Li Ka-shing regained his title, the media rarely mentioned it.
Li Ka-shing's wealth has grown steadily, with an increase of approximately US$600 million based on US$33.7 billion a month ago. However, since Beijing implemented the "Hong Kong version of the National Security Law" and passed the "Patriot Ruling Hong Kong," Hong Kong's tycoons have been at the forefront of public opinion.
Beijing targets Hong Kong's real estate tycoons
On March 7, vice premier Han Zheng proposed to solve Hong Kong's housing problem at the Two Sessions, China's top annual political meeting. After that, a wave of struggles against landlords, similar to what occurred during the Cultural Revolution, began in Hong Kong.
Local real estate developers were heavily criticized. For instance, the Bauhinia Party blamed housing problems for the 2019 street protests, referring to the social disparity that caused social unrest that year.
Hong Kong's Bauhinia Party is a pro-Beijing party formed in 2020 by China born pro-Beijing financial professionals.
On March 16, Bloomberg reported that the four property tycoons in Hong Kong—the Kwok Tak-seng family, the Lee Shau-kee family, the Li Ka-shing family, and the Cheng Yu-tung family—have become the scapegoats of Beijing.
In mid-April, Hong Kong began to implement the so-called electoral system reform plan passed by Beijing's rubber stamp legislature. Among the newly added pro-Beijing patriotic groups, the influential Federation of Hong Kong Chiu Chow Community Organizations, with Li Ka-shing as the honorary president, was excluded from the election committee.
In addition, on April 27, Li Ka-shing's Cheung Kong Asset Holdings provided the Hong Kong Stock Exchange a detailed  valuation report of its property assets, which indicated a total value of approximately HK$500 billion ($64.4 billion), considerably higher than the Cheung Kong Group's current market value of HK$181.1 billion ($23.3 billion).
The 885-page report disclosed the Cheung Kong Holdings properties in many locations around the world. Prepared by Cushman & Wakefield, the valuation of 198 properties in China and Hong Kong exceeded HK$420 billion ($54 billion). Among them, 71 properties in mainland China were valued at HK$133.5 billion ($17.2 billion), and 127 real estate projects in Hong Kong were valued at 290.3 billion yuan ($37.4 billion).
On April 28, Hong Kong's Apple Daily columnist Gu Rong wrote in a commentary that Cheung Kong's voluntary release of the report was probably done for one main audience—the Communist regime.
Gu wrote that for many years, whenever Li Ka-shing's companies sold assets in China and Hong Kong, it was considered an act of withdrawal and cash out, and the little pinks (China's online warriors) would exclaim, "Don't let the superman run away."
He stated that the valuation report was meant to show the world that the assets were underestimated and more importantly, show loyalty to Beijing. "Under the premise that everything has to be politically correct at this time, owning 200 properties and hundreds of billions of assets in China and Hong Kong would ensure others its insistence to invest and develop in China and Hong Kong," Gu wrote.