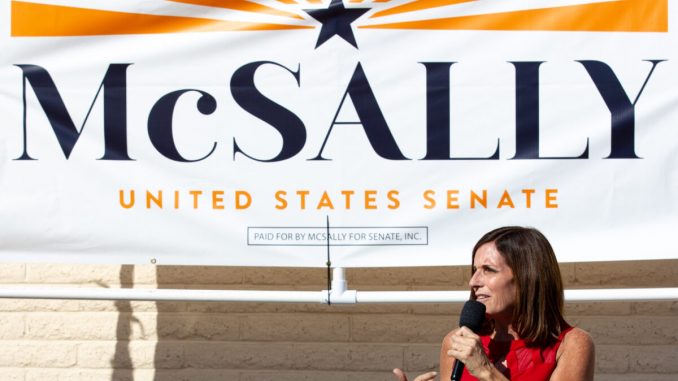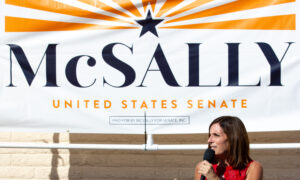 A senior official on former Sen. Martha McSally's (R-Ariz.) 2018 Senate campaign has pleaded guilty to stealing over $115,000 in campaign funds, the Department of Justice (DOJ) said.
Anthony Barry, who served as a consultant and deputy campaign manager for McSally, leveraged his authority to make fraudulent payments to himself, prosecutors said in a release.
"Barry used his position in the campaign to fraudulently direct the campaign to make payments to him beyond what he was owed for his salary and had the fraudulently obtained funds deposited into his personal bank account," they said.
He has pleaded guilty to one count of unlawful conversion of campaign funds, a felony punishable by up to five years in prison. His sentencing is scheduled for July 6.
The Epoch Times reached out to Barry's attorney with a request for comment on the case, but did not receive a response by press time.
Barry, a 33-year-old resident of Yorkville, Illinois, managed McSally's campaign during her failed 2018 run for Senate.
After narrowly losing to Sen. Kyrsten Sinema (D-Ariz.) that year, McSally was later appointed by Gov. Doug Ducey to fill a vacated Senate seat.
"With her experience and long record of service, Martha is uniquely qualified to step up and fight for Arizona's interests in the U.S. Senate. I thank her for taking on this significant responsibility and look forward to working with her and Senator-Elect Sinema to get positive things done," Ducey said in a statement at the time.
McSally, the first woman to fly a combat mission as a fighter pilot, ran again in 2020 but lost to former astronaut Sen. Mark Kelly (D-Ariz.).
"It has been an absolute honor to fight for and serve Arizona in the U.S. Senate, especially during these unprecedented times," she said in a concession statement in November. "Thanks to Governor Ducey for giving me this extraordinary opportunity to serve. I will always be inspired by the strength, resilience, innovation, and compassion that I witnessed from Arizonans as I traveled throughout our great state."
"After fighting for our country for more than three decades—the last nine in the political arena—I trust God will lead me to my next mission to make a difference after I get a little rest," she added.