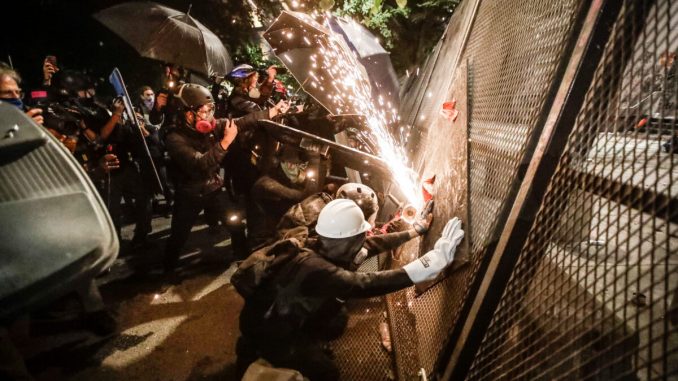 Over half of the people charged by federal prosecutors for allegedly committing crimes during the rioting in Portland over the summer of 2020 have seen their charges dropped, according to court records analyzed by The Epoch Times.
Of the 90 people who prosecutors said were charged between July and October of last year, 48 saw their charges dismissed at the request of the U.S. Attorney's office in Oregon.
The charges that prosecutors decided against pursuing included assault of a federal officer, destruction of government property, and failing to obey a lawful order.
Another 32 defendants have had their arraignments or jury trials pushed back, many multiple times. In a handful of cases, the next hearing has been delayed until 2022, as courts continue dealing with a backlog that accumulated during the COVID-19 pandemic. The majority of this group is free on bail.
Four people who were charged have entered guilty pleas and six were not charged, according to court records and the U.S. Attorney's office, which told The Epoch Times in an email that each case is handled on its own merits.
"Dismissals are very case-specific and based on our assessment of available evidence. If we do not believe we can prove a charge beyond a reasonable doubt, we will dismiss the case. These decisions are being made case-by-case rather than with specific criteria or factors applied broadly across all of our cases. Our approach depends on the circumstances of the charged offense and unique characteristics of each defendant," a spokesman for the office said.
Cases were dismissed under former U.S. Attorney Billy Williams, a Trump nominee, and acting U.S. Attorney Scott Asphaug, who was elevated to his current position upon Williams's resignation earlier this year. President Joe Biden has yet to nominate a new U.S. attorney for the state.
Williams had spoken out forcefully against the rioters, who caused millions of dollars in damage to federal buildings. In August 2020, he called them "violent agitators" who had "hijacked any semblance of First Amendment protected activity, engaging in violent criminal acts and destruction of public safety."
"Make no mistake: those who commit violence in the name of protest, will be investigated, arrested, prosecuted, and face prison time," he said in a separate statement.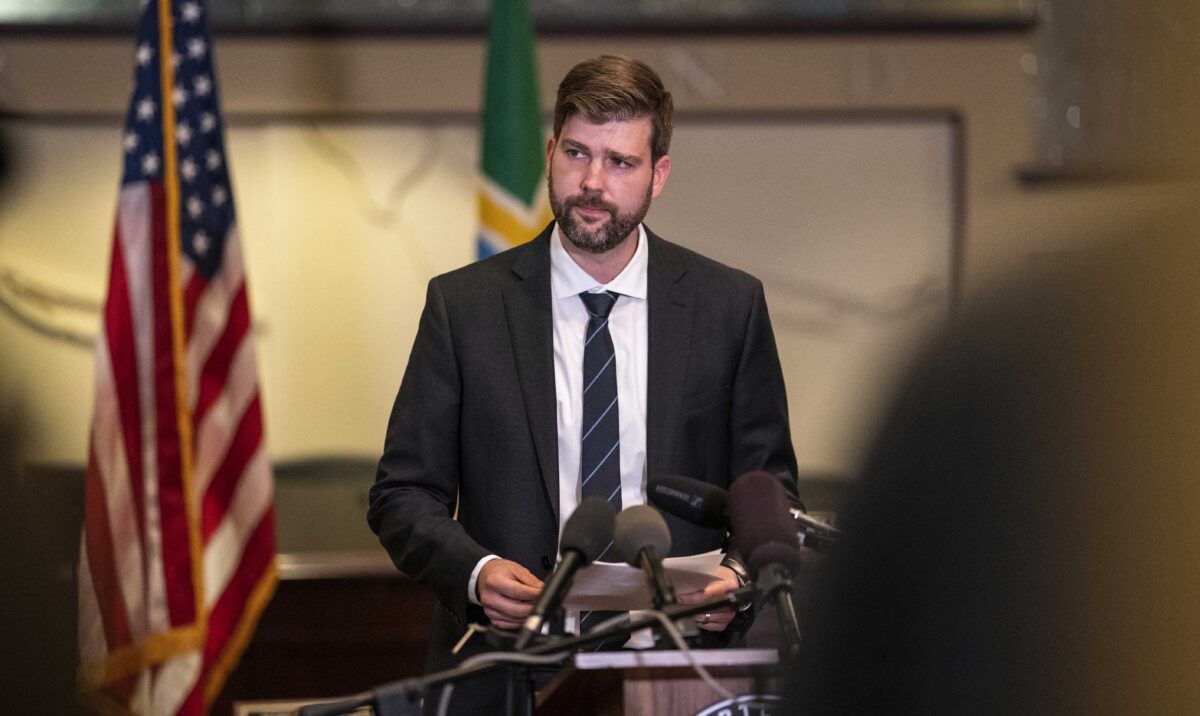 Federal prosecutors decided to charge wrongdoers after Multnomah County District Attorney Mike Schmidt announced his office would not prosecute some people arrested and charged during demonstrations. Schmidt rejected hundreds of cases brought to his office by October 2020, though county prosecutors are reviewing previously dismissed cases if the alleged criminals are arrested again.
Federal prosecutors acted last year because so many of the accused were released from jail just hours after being booked, Chris Van Wagner, a defense attorney in Wisconsin who was once a federal prosecutor in Madison, told The Epoch Times.
"They'd be arrested, they'd be booked, and they'd be immediately released. And they would be right back out there the next night, and whether you'd call them Antifa or hooligans or rioters or protesters doesn't matter—they were able to return to the fray almost immediately," he said.
Anyone charged with a federal crime can be held for up approximately five days, sometimes longer.
The slew of dismissals appears to Van Wagner as "winnowing down the cases to those that were direct and serious threats to federal buildings," such as people who were said to have carried out arson on federal buildings. Some of the cases that were dismissed deal with lower-level offenses. It's possible the change in administrations played a role, he added.
Lisa Hay, the federal public defender in Oregon, said that some of the people who saw charges against them dropped did not actually commit a crime.
"In other cases, the prosecutors looked at the facts, thought they could have possibly made a case, but also thought it wasn't worth the federal resources to prosecute somebody when there are other mitigating factors that showed this wasn't somebody who was intent on engaging in crime," Hay told The Epoch Times.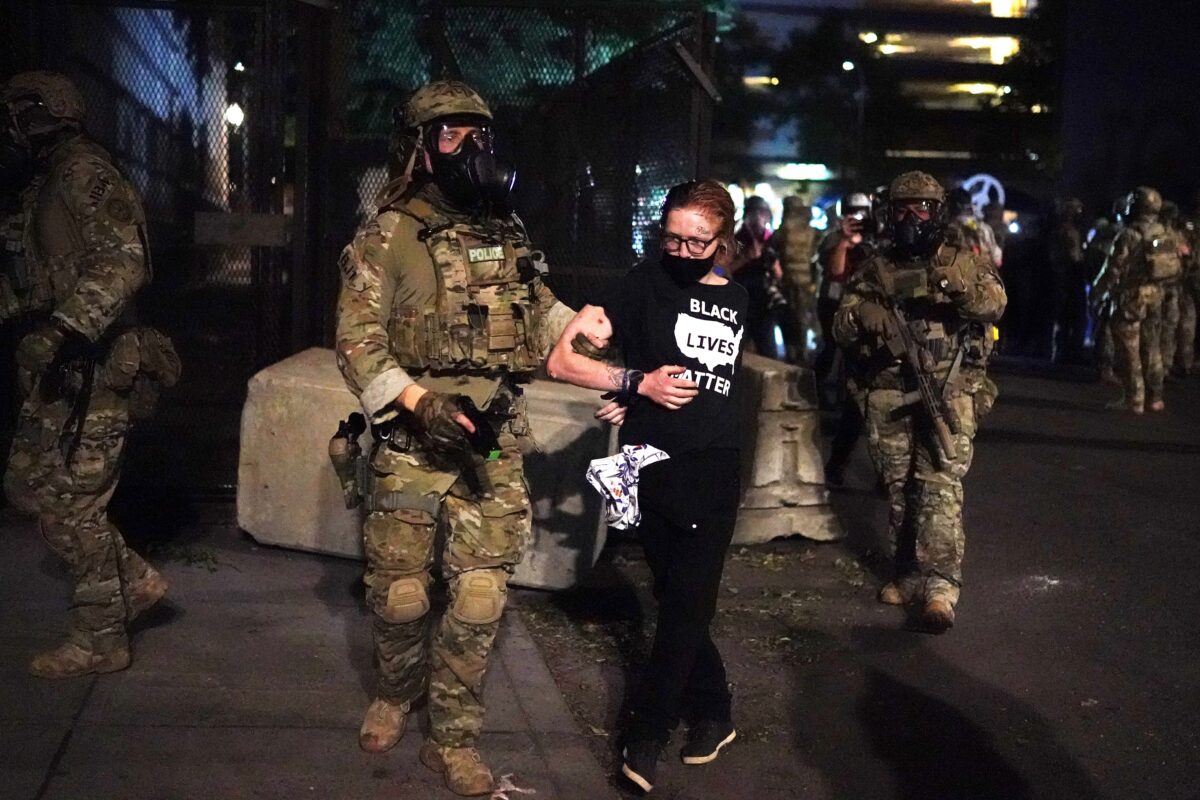 "And that happened because people were outside the courthouse protesting and exercising their First Amendment right. It was a chaotic situation, and I understand why federal law enforcement arrested some people at the time, but they made mistakes during their arrest, and in some cases the federal government was just overreaching and shouldn't have been charging people," she added.
Not all of the people who were arrested were among those captured on video or in photographs smashing the U.S. courthouse in Portland with sledgehammers, she emphasized.
Chad Wolf, an acting secretary of Homeland Security during the Trump administration, disagreed with the dismissals. He told Fox News that what has happened "is offensive to all the men and women who risked their lives in Portland for 90 to 120 days or even longer in some cases, being attacked night after night after night."
Wolf surged federal officers to Portland in July. He said at the time that local law enforcement were not doing their job.
Federal officers and rioters clashed for weeks until an agreement was reached to withdraw. Local officials largely blamed federal officers for the violence, claiming that the riots had been dying down before the feds intervened.
But Portland has continued seeing riots into this year, as recently as this month, when a group of over 100 smashed windows and vandalized City Hall and a number of private businesses. Many of the riots are advertised by Antifa and Antifa-linked social media accounts, with known members being present and arrested.
Antifa is a far-left, anarcho-communist network that is most active in the Pacific Northwest.
Ted Wheeler, Portland's police commissioner and mayor, urged community members late last month to help authorities "unmask" the rioters, who he described as anarchists bent on destruction.
A video credited to Antifa soon threatened Wheeler, telling him: "Blood is already on your hands, Ted. But next time it may just be your own."
Authorities are investigating the video, the Portland Police Bureau and the FBI told The Epoch Times.