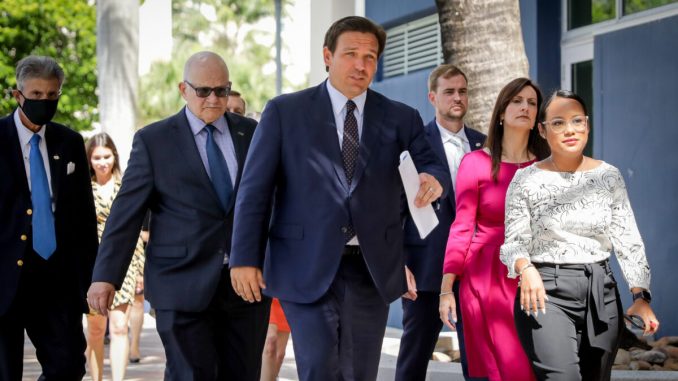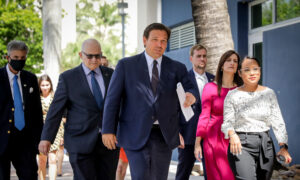 Now that Florida Gov. Ron DeSantis has banned Critical Race Theory from public schools, his critics are on notice that Florida's students will learn "historical fact," not "non-empirical ideology."
"Gov. DeSantis' critics often claim that his initiative would stop students from learning about racial discrimination in our state's history," Executive Office of the Governor Press Secretary Christina Pushaw told The Epoch Times. "Their claim is false. For illustration, last year, Gov. DeSantis signed legislation to include the 1920 Ocoee Election Day Riots in required instruction on African American history in Florida schools."
The bill, signed into law by DeSantis nearly a year ago, directs "the Commissioner of Education's African American History Task Force to determine ways in which the 1920 Ocoee Election Day Riots will be included in required instruction on African-American history" and encourages "district school boards to assess naming opportunities for naming school facilities in recognition of victims of the 1920 Ocoee Election Day Riots."
The Ocoee Massacre, which took place in Ocoee, Florida, on Nov. 2-3, 1920, was the largest election-related massacre, resulting in over 50 deaths.
"The Ocoee Election Day Riots are historical fact," Pushaw said, "worthy of inclusion in the curriculum. By contrast, CRT is an unsubstantiated and non-empirical ideology–the opposite of factual."
"Civic education can acknowledge dark moments in our nation's history, while rejecting the premise of CRT, that America is a fundamentally evil, racist country," Pushaw emphasized. "CRT advocates relentlessly focus on the negative aspects of American society and history but ignore any positive aspects."
Pushaw noted that DeSantis has made it clear that "teaching kids to hate their country and to hate each other is not worth one red cent of taxpayer money."
"The Florida Board of Education guides the implementation of policy around public K-12, community college and state college education in our state," Pushaw explained. "The Department of Education will release more detailed information about plans to ensure that Florida schools are not indoctrinating children with destructive ideologies like CRT."
Using $106 million of Florida's portion of the Elementary and Secondary School Emergency Relief Fund provided through the Coronavirus Response and Relief Supplemental Appropriation Act, the Civic Literacy Excellence Initiative is the governor's proposal "to make Florida a national leader in civics education."
"The Civic Literacy Excellence Initiative that Gov. DeSantis announced in March ensures that Florida's curriculum will expressly exclude CRT," Pushaw added.
The new program will reward Florida teachers who complete training and earn the Civics Seal of Excellence endorsement with $3,000 bonuses.
"Florida civics curriculum will incorporate foundational concepts with the best materials," DeSantis said during a March 17 press conference, "and it will expressly exclude unsanctioned narratives like critical race theory and other unsubstantiated theories."
Teacher Gets Fired
A Duval County, Florida, teacher was recently terminated from her position as a Language Arts teacher at Robert E. Lee High School for refusing to comply with the governor's ban of CRT by having what Florida Education Commissioner Richard Corcoran described as "an entire classroom memorialized to Black Lives Matter."
"Governor DeSantis has made clear his position on CRT," "It is divisive, irrational, and has no place in our classrooms," Pushaw said. "CRT is rooted in Marxism, an anti-American ideology that has caused untold suffering and death everywhere it has been implemented.
"Moreover, CRT teaches discrimination based on ethnicity and racial background. The governor has zero tolerance for state-sanctioned racism."
According to Rule 6A-10.081 of Florida's Administrative Code, teachers "shall not intentionally expose a student to unnecessary embarrassment or disparagement," and "shall make reasonable effort to assure that each student is protected from harassment or discrimination."
Concerns Over Textbooks
The governor is now considering ways to deal with textbooks that contain CRT, which have already been adopted in many Florida school districts for use when school resumes this fall.
Pushaw assured The Epoch Times she would "follow up" on the questions of how the governor will address the matter of the textbooks "when those details become available in the next few weeks."
Florida Citizens' Alliance is a volunteer-run 501c3 that advocates parental choice and K-12 education reform in Florida.
"I'm hopeful we can get the governor and Corcoran to recognize that simply saying they're banning CRT isn't acceptable. Parents are smarter than that and they're going to see through that pretty quickly. It's going to be a major embarrassment to the governor if they continue to proceed down the road with all of these school districts buying these books," founder Keith Flaugh told The Epoch Times.