Utah Gov. Spencer Cox said that the state will drop mask mandates for the upcoming school year, after weeks of protests from parents over the measure.
The Republican governor has previously defended his administration's decision to mandate masks in schools this school year against parent protests, but now says the state's rising vaccination rates indicate that districts are prepared to limit restrictions.
"We now have the ability for those that have concerns about the virus to protect ourselves much more," Cox told The Associated Press in explaining his decision. "We have better masks available and opportunities for people to make those decisions."
Dozens of districts nationwide have already dropped mask mandates and many more districts have indicated they are likely to not require them next fall. At least half of states still have statewide mask mandates in place, and many school districts still require masks. The school-tracking site Burbio found 62 percent of schools were offering in-person learning every day by late April.
Cox said that students at a higher risk of becoming seriously ill after being infected with COVID-19, the disease caused by the CCP (Chinese Communist Party) virus, will have the option to either wear N95 masks or continue their lessons via online learning if their schools offer it.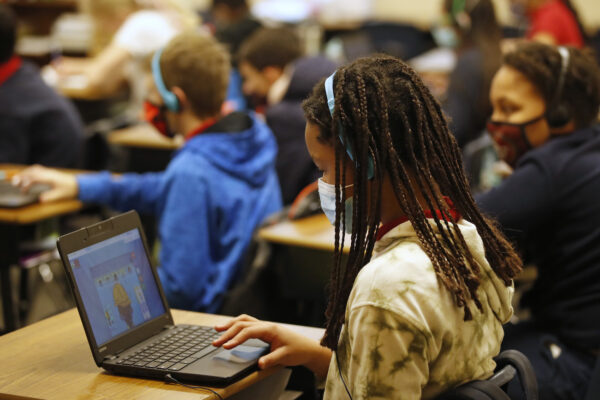 "There will certainly be opportunities to accommodate those who may be struggling or are worried about that but our hope is that … by the time we're back in school by the end of August that that won't be a concern for most families," he added.
Studies have found that young children transmit COVID-19 less than older children and adults. Studies have shown children who do wear masks often undermine their effectiveness by touching them and repeatedly taking them on and off. Several studies determined that factors like irritation, difficulty breathing, and low peer acceptability were reported by children who wore masks.
The World Health Organization (WHO) recommends no masks be required to be worn by children up to 5 years old and that policymakers weigh different facts when mulling whether to impose mask requirements on children between the ages of 6 and 11, such as the intensity of transmission of the CCP virus in the area where the child is and the latest data concerning spread from children.
Children should not wear a mask while doing sports or other physical activities, though they should maintain distancing of at least 3 feet from others, the international agency says, adding that masks can interfere with the learning process in schools and can have a negative impact on activities like physical education and meal times.
Utah's statewide mask mandate was lifted on April 10, however, K-12 schools still require students to wear masks until June 15, when the majority of districts have let out for summer.
Zachary Stieber and The Associated Press contributed to this report.