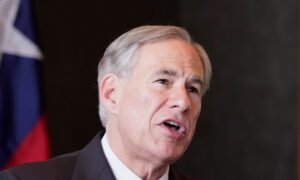 The Texas House on April 6 approved a law that would penalize the state's largest cities if they decrease their police budgets.
House Bill 1900, authored by Republican state Reps. Craig Goldman, Will Metcalf, Greg Bonnen, and Angie Chen Button; and Democrat state Rep. Richard Peña Raymond, was preliminarily approved on a 91-55 vote.
At least nine Democrats, most from small cities in South Texas, voted for the bill, according to a preliminary count.
It now awaits a final vote on the House floor before it can move to the Senate.
The bill would apply only to cities with a population of more than 250,000, or the 11 largest Texas cities, and comes amid Gov. Greg Abbott's decision to make punishing cities that decrease police spending a legislative priority.
The Republican governor said last year that he would back legislation to freeze property tax revenues for cities that "puts residents in danger" by cutting police budgets.
As per the bill, if a city with more than 250,000 residents was determined by the governor's office to have cut police funding, the state would be allowed to appropriate part of a city's sales taxes and use that money to pay expenses for the Texas Department of Public Safety, The Texas Tribune reports.
Those same cities would also be banned from increasing property taxes or utility rates, which could have been used to compensate for the reapportioned sales taxes.
Other punishments include triggering an automatic de-annexation election for parts of the municipality in question that were annexed in the last 30 years; prohibit new annexation for 10 years; and trigger funding for state law enforcement to fill the gap.
Cities would be exempted if the reduction to the police department is proportionally equal to an overall city budget decrease. They can also get approval to cut police budgets if expenses for one year were higher because of capital expenditures or disaster response.
"As municipalities across this nation are defunding their police departments, are taking money away from the police budgets and putting them elsewhere in their city budgets, this bill makes sure that in the state of Texas, that is not going to be allowed," Goldman, a Fort Worth Republican, said on the House floor Thursday.
Last month, the Senate approved a similar measure, Senate Bill 23, that would block local governments from reducing their law enforcement budgets without voter approval.
The bill, which passed the state Senate in a bipartisan 28-2 vote, requires a local election before any city or county in Texas can cut law enforcement funds as a percentage of its overall budget, lower the number of officers, or reduce funds per officer for training and recruitment.
The latest bill comes amid calls from a number of groups across the United States to "defund the police" following the death of George Floyd in Minneapolis last year and the fatal shooting of Mike Ramos in Austin, which led to the latter city cutting its police budget by one-third, or $150 million.