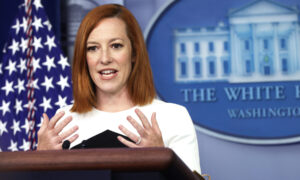 White House Press Secretary Jen Psaki said on Thursday that her team at times tells President Joe Biden not to answer questions from reporters.
Psaki made the remarks during an appearance on CNN's podcast "The Axe Files with David Axelrod."
CNN Senior Political Commentator Axelrod brought up an incident from earlier this year when the president was put on the spot by CNN reporter Kaitlan Collins about whether a provision to raise the minimum wage to $15 would be part of the pandemic relief bill that was signed into law in March.
The president at the time was unaccompanied by his communications team and answered the question.
Axelrod asked the press secretary how she manages scenarios where Biden takes impromptu questions from reporters.
"He was right, but it must have given you a lot of heartburn and [made you] ask yourself, 'Why are we allowing him to roll around in the hallways doing impromptu interviews?'" Axelrod asked.
"He takes questions nearly every day he's out [with] the press," Psaki said.
"That is not something we recommend. In fact, a lot of times we say 'don't take questions,'" Psaki told Axelrod, noting that at the time, she had finished work for the day and the president was on his way back to his residence.
She continued, "But he's going to do what he wants to do because he's the president of the United States."
The president has only held one formal press conference, which took place 65 days into his presidency on March 25, after mounting pressure from critics and journalists. Biden waited longer than any other president in four decades to hold the formal briefing.
By contrast, his 15 predecessors held solo press briefings within the first 33 days of their respective presidencies. Former President Donald Trump took questions after 27 days in office, while former President Barack Obama held a formal press conference 20 days into his first term.
The president gave his first prime-time address on March 11 but took no questions afterwards.
Photographs taken during his first solo press conference showed that he consulted notes that assisted him with key policy points and data, and appeared to show numbered images of reporters attending the event.
The president took answers only from a list of reporters whose outlets and names were listed and numbered on a cue card. Biden took 31 questions from reporters, notably ignoring those from Fox News and The New York Times.
The White House didn't immediately respond to a request for comment.