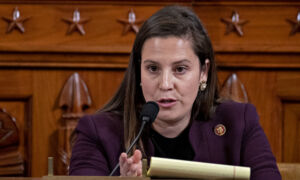 Twitter has restored the account of Rep. Elise Stefanik's (R-N.Y.) communication director after suspending it in "error," though Karoline Leavitt—the director—insists it was a "purge in their ongoing effort to silence conservatives voices."
The Twitter account of Leavitt, who served as assistant White House press secretary in the Trump administration, went offline on Wednesday night, prompting Stefanik—her current boss—to accuse the social media company of "unconstitutional overreach" and of silencing "our voices and freedom of speech."
"BIG TECH on the MOVE! Twitter just suspended my Communications Director," Stefanik wrote in a tweet. "An unconstitutional overreach SILENCING our voices and freedom of speech. Republicans are united in fighting back against Big Tech's tyranny. Millions of Americans will not be silenced!"
A Twitter spokesperson told media outlets that Leavitt's account freeze was accidental. At the time of this report, her account is back up.
The account "was suspended in error," the spokesperson told The Hill, adding that the move "has been reversed, and the account has been reinstated."
Leavitt took to Twitter to announce she has been "released from Twitter's Conservative Jail," but pushed back against the notion that it was an accident.
"This was not an 'error,' as Twitter claimed. This was another purge in their ongoing effort to silence conservatives voices!" she wrote. "We cannot back down to Big Tech Giants! Our movement is too important!"
Twitter did not immediately respond to a request for comment on Leavitt's allegation.
Speaking to Fox News, Leavitt suggested the suspension had something to do with her following multiple conservative accounts.
"The only reason I can think that Twitter would have suspended me is that I followed several Republican members of Congress and GOP activists at once last night, and within minutes, my account had been suspended," Leavitt told the outlet.
Stefanik, who was recently endorsed by Trump to replace Rep. Liz Cheney (R-Wyo.) as the House Republican Conference chair, remained unconvinced that the lockout of her communications director was an accident.
Reacting to a tweet by CNN correspondent Donie O'Sullivan, who noted the Twitter spokesperson's "error" remarks, Stefanik wrote, "Why does this ONLY happen to conservatives?! Absolutely outrageous. Because Big Tech is corrupt. That's why."
O'Sullivan remarked in a follow-up tweet that it "really doesn't help Big Tech's argument that they are not censors of the right when apparent errors like this happen."
Conservatives have long held that Big Tech is silencing voices of those on the right. In a recent case, government watchdog group Judicial Watch alleged that Iowa State officials worked with Big Tech last year to censor posts related to the 2020 election.
Judicial Watch's claim is based on 624 pages of records it received from the office of the Secretary of State of Iowa as a result of a June 2020 open records lawsuit (pdf) filed by the watchdog.
"These records are yet another example of state officials conspiring with Big Tech to deny Americans their First Amendment rights," Judicial Watch President Tom Fitton said in a statement.
The Epoch Times reached out to the Iowa secretary of state's office, CISA, and the National Association of Secretaries of State for comments.