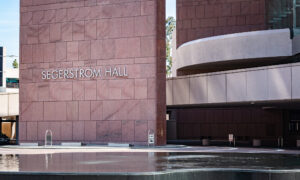 Seats for the Segerstrom Center for the Arts' Broadway series could fill to full capacity this November as the venue plans to host some of theater's biggest hits with no limits on ticket sales.
The performing and visual arts center confirmed with The Epoch Times on May 6 that it will be operating at full capacity.
In order to ensure that employees, performers, guests and volunteers, feel safe and comfortable, safety protocols will remain in place.
The center has been outfitted with optimal air ventilation and circulation filtering systems, as well as hands-free fixtures in bathrooms, and touchless mobile devices for box office ticket purchasing and check-in areas. Staff will frequently clean and sanitize high-traffic areas, and sanitation dispensers have been placed throughout the building. Mask wearing inside the building will remain mandatory.
Its 2021-2022 Broadway Series schedule includes performances of Jesus Christ Superstar, My Fair Lady, Wicked, Mean Girls, The Band's Visit, Tootsie, Pretty Woman and Hadestown.
Venues across the state began to open back up with limited capacity in April, but with budget deficits and audience development waning, moving toward operations at full capacity is critical for an industry beleaguered by pandemic shutdowns.
Said center president Casey Reitz in a press release: "Show producers and our presenting colleagues across the country feel strongly the promise of effective COVID-19 vaccines are making it safe for companies to tour safely and audiences to return to theaters to enjoy their favorite shows once again."
Broadway shows usually tour the nation during certain times of the year, making it vital to be able to coordinate venue scheduling, book artists, plan season ticket offerings and ship the elaborate stage sets that often travel cross-country during the season.
The center will honor purchased 2020-2021 season ticket subscriptions via automatic transfer to the 2021-2022 series performances and will be offering subscribers the first opportunity to add additional tickets and purchase bonus options.