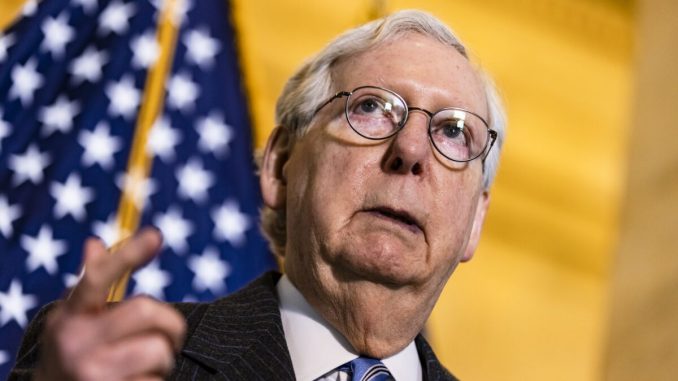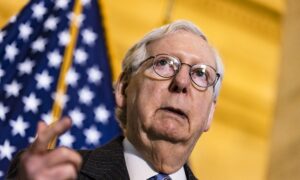 Senate Minority Leader Mitch McConnell (R-Ky.) said that the entirety of his focus is stopping President Joe Biden's agenda, which threatens the already small chance of bipartisanship ahead of more negotiations on a potential infrastructure deal.
"One hundred percent of my focus is standing up to this administration," the Kentucky Republican said at a press conference in his home state Wednesday in response to questions about House Republicans' potential leadership shakeup. "What we have in the United States Senate is total unity from Susan Collins to Ted Cruz in opposition to what the new Biden administration is trying to do to this country," he said, referring to the Republican senators from Maine and Texas.
Other than infrastructure bills, proposals supported by Biden on gun control, D.C. statehood, and voting has drawn very little Republican interest. Those bills passed in the House but are not likely to progress in the Senate, where bills need 60 votes to advance due to the filibuster, and where Democrats have a 50-50 majority in the chamber.
"We're confronted with severe challenges from a new administration and a narrow majority of Democrats in the House and a 50-50 Senate to turn America into a socialist country, and that's 100 percent of my focus," McConnell also said Wednesday.
He had been responding to questions about House Republican leaders reportedly vying to oust Rep. Liz Cheney (R-Wyo.) from her leadership position due to her consistent opposition to former President Donald Trump.
In response to the Senate leader's comments, Biden told reporters that "in our last [Obama] administration…he was going to stop everything, and I was able to get a lot done with him."
White House press secretary Jen Psaki, also in response, attempted to redefine what McConnell told reporters: "The contrast for people to consider is 100 percent of our focus is on delivering relief to the American people, and getting the pandemic under control, and putting people back to work." She added: "The door to the Oval Office is open."
Regarding infrastructure, Biden has proposed a $2.2 trillion jobs package and a $1.8 trillion package for families, both of which go well beyond money for roads, bridges, and broadband, as well as manufacturing, public schools, in-home care, and other provisions. The president also seeks to boost taxes on wealthier Americans and corporations, and increase capital gains taxes.
Republicans have balked at the price tag on Biden's proposals and said the administration is attempting to create a new definition for infrastructure. McConnell has said that no Republican senators will back Biden's proposals in their current form.