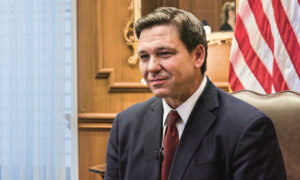 Florida Gov. Ron DeSantis has announced a round of one-time $1,000 bonuses for first responders—including firefighters and law enforcement officers—saying at a press conference in Satellite Beach on Wednesday that, "we're funding the police and then some."
DeSantis traveled to Satellite Beach, Temple Terrace, and Fort Myers to announce the bonuses for around 174,000 first responders across the state, including for paramedics, emergency medical technicians, firefighters, and law enforcement officers.
"Some want to defund the police," DeSantis said at the presser in front of the Satellite Beach Police Department."We're funding the police and then some, and that's what we're here today to say," the governor added, drawing nods of approval and applause from first responders and members of law enforcement standing alongside DeSantis at the event.
Some want to defund the police.

In Florida, we're funding them & then some by providing all of our heroes $1,000 bonuses. This represents more than 174,000 first responders across the state!

🚔🚒🚑 pic.twitter.com/ZMcB9T620g

— Ron DeSantis (@GovRonDeSantis) May 5, 2021
The governor took note of the so-called "anti-riot" bill he signed into law in late April, praising lawmakers for including provisions that make it harder for local governments to defund the police. The measure, called HB 1: Combating Public Disorder, says local authorities cannot cut their police budgets without approval from the state.
"The mission has been accomplished on a lot of what we set out to do to support our men and women in law enforcement this legislative session," DeSantis said. "When we passed our anti-rioting bill, we had a very strong provision in there that said, we are not going to let local governments defund law enforcement … and if you try to do it, we're gonna fight back."
DeSantis authorized the bonuses in March, and they are included in the 2021-22 Florida state budget, which has yet to be signed. However, the Florida Department of Economic Opportunity (DEO) is "working to immediately implement this bonus program," DeSantis' office said in a statement.
The DEO has allocated around $208 million for the bonus program, which includes 49,405 sworn law enforcement officers, 40,732 emergency medical technicians, 35,811 firefighters, and 33,185 paramedics in the state.
Florida Chief Financial Officer and State Fire Marshal Jimmy Patronis said in a statement that, when the outbreak of the CCP (Chinese Communist Party) virus reached Florida, "our first responders worked overtime to protect our communities and get people the care they so desperately needed."
"I say all the time that these men and women work 24/7, 365-days a year to protect our communities—and they performed with honor and distinction during this global pandemic," Patronis said, adding that the bonus "means a lot to these first responders and their families who had to live through this crisis."