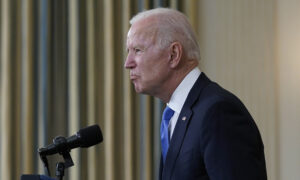 President Joe Biden is supportive of Facebook and other Big Tech companies taking action to combat disinformation and misinformation, the White House said after Facebook's Oversight board upheld the technology giant's decision to suspend former President Donald Trump.
"The president's view is that the major platforms have a responsibility related to the health and safety of all Americans to stop amplifying untrustworthy content, disinformation, and misinformation, especially related to COVID-19, vaccinations, and elections. And we've seen that over the past several months, broadly speaking. I'm not placing any blame on any individual or group; we've seen it from a number of sources," White House press secretary Jen Psaki told reporters in Washington.
"He also supports better privacy protections and a robust anti-trust program. So his view is that there's more that needs to be done to ensure that this type of misinformation; disinformation; damaging, sometimes life-threatening information is not going out to the American public," she added.
Psaki said the administration believes in First Amendment rights but that platforms should have the ability to police information that is deemed misleading.
Biden took questions after making remarks later in the day but was not asked about the decision.
The Facebook Oversight Board, a purportedly independent body that can overrule the company's decisions, said earlier Wednesday that the tech giant rightly suspended Trump in January following the U.S. Capitol breach.
Trump posted two pieces of content that were said to have "severely violated" Facebook's guidelines. In one post, he told supporters that the 2020 election "was stolen from us" while urging them to leave the Capitol. In another, he wrote that events like the breach happen "when a sacred landslide election victory is so unceremoniously viciously stripped away from great patriots who have been badly unfairly treated for so long."
Trump has said his comments following the breach were "totally appropriate." In response to the board decision, he said that "Free Speech has been taken away from the President of the United States because the Radical Left Lunatics are afraid of the truth, but the truth will come out anyway, bigger and stronger than ever before."
Board members also ruled that Facebook cannot suspend people indefinitely. The company has six months to decide whether to ban Trump permanently or allow him back on the platform.
Republicans decried the board's ruling, calling for legislative action to "rein in" or "break up" Facebook.
"For every liberal celebrating Trump's social media ban, if the Big Tech oligarchs can muzzle the former President, what's to stop them from silencing you?" Sen. Ted Cruz (R-Texas) wrote in a statement.
But Democrats, who impeached Trump over his pre- and post-breach remarks, largely focused on praising the decision.
"Donald Trump is no voiceless victim. He earned his suspension from Facebook by spreading dangerous, violence-inciting lies. Our nation is still living with the consequences of the deadly insurrection Trump incited, & there is a clear & present danger that he will do it again," Sen. Richard Blumenthal (D-Conn.) alleged.