Arizona's top elections officer Katie Hobbs on Wednesday alleged multiple points of concern regarding the forensic audit of the 2020 presidential election currently underway in Maricopa County.
In a letter (pdf) to former Secretary of State Ken Bennett, who is the state Senate's liaison for the audit, Hobbs outlined 13 points of concern over how the audit is being run. This included seven points of concern over counting procedures that the state Senate and audit contractor Cyber Ninjas disclosed, as well as six points of concern over what her observers saw at the audit site.
According to local outlet KPNX, under terms of a lawsuit settlement filed on Tuesday, defendants Bennett, Arizona Senate President Karen Fann, and the lead auditor, Florida-based Cyber Ninjas have 48 hours to respond to Hobbs' concerns. If the concerns are not addressed, Hobbs could take them back to court for breach of contract.
The audit began on April 23 and continues at Arizona Veterans Memorial Coliseum in Phoenix, a venue the auditors have booked and secured until May 14.
Hobbs, a Democrat, alleged that the procedures governing the audit do not ensure accuracy, security, and transparency.
"I'm not sure what compelled you to oversee this audit, but I'd like to assume you took this role with the best of intentions," she told Bennett in the letter. "It is those intentions I appeal to now: either do it right, or don't do it at all."
On Twitter, Hobbs announced, "The settlement in ADP v Fann requires the Senate to have procedures to protect our ballots, election equipment, and data. Today, I put the Senate on notice that security shortfalls remain and must be addressed under the agreement."
Maricopa Arizona Audit's Twitter account said late on Wednesday that Hobbs "continues to make baseless claimes [sic] about this forensic audit but has never led an election audit in her entire career."  The message declared, "The audit continues!"
The group furthermore encouraged Twitter users to retweet if they think audits are a state right. Another statement released later on Wednesday read, "Democrat [Secretary of State Katie Hobbs] who does not support election audits or transparency now wants the Federal Government to get involved in the Arizona Senate forensic audit. Arizona has the authority to conduct this audit without interference from the Feds!"
Bennett did not immediately respond to The Epoch Times' request for comment over the contents of Hobbs' letter.
He told the Arizona Capitol Times late Wednesday of Hobbs' concerns, "I think that most of the things in her letter are completely unfounded. And the ones that have a little bit of legitimacy can be dealt with pretty easily."
Bennett did not elaborate as to what concerns would fall into the latter category.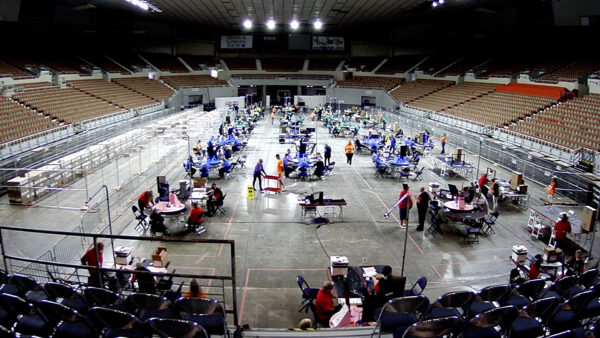 Among the seven concerns based on the disclosed procedures, Hobbs alleged that there were "no procedures for hiring qualified, unbiased counters." She noted that former State Representative Anthony Kern has been among the people counting the ballots in the audit.
Kern's name is listed on the ballot "not only as a candidate for State Representative but as a Presidential Elector—the exact race for which he is counting," Hobbs wrote, adding, "While these facts would be disqualifying in any professional recount or audit, unfortunately, there are additional reasons why Mr. Kern is not trustworthy to fulfill this role."
Hobbs in her letter also took aim at a number of procedures that she said "appear better suited for chasing conspiracy theories than as a part of a professional audit," which included using UV lights to search for watermarks, measuring the thickness of ballots, searching for folds in ballots, and looking at ballots under a microscope.
She said these measures are "completely unnecessary steps if the goal of the audit is to validate the election results."
She also questioned how tally sheets from ballot counters would be added up, and noted that her office had "received no real explanation" over the matter "other than that an accounting firm will handle it later."
"This is not transparency. Further, it appears that a single person enters the totals from the tally sheets into an electronic spreadsheet, leaving wide open the opportunity for error, inadvertent or otherwise," she wrote. "At minimum, a bipartisan team of at least two individuals should aggregate the tally sheets or otherwise confirm that data is entered accurately for aggregation."
In addition to concerns over the disclosed procedures, Hobbs alleged in her letter that observers from her office have seen a number of problems, which include inadequate physical security of ballots, unattended computers at the forensic analysis tables, constantly changing rules in the audit procedures since the beginning of the audit, and "frequent violations" of the procedures that do exist.
Democrats have mounted heavy resistance to the audit. On April 22, the day before the audit was scheduled to start, the Arizona Democratic Party filed a last-minute lawsuit against state Senate leadership to try to stop it from going ahead. Judge Christopher Coury and successor Judge Daniel Martin ultimately allowed the audit to proceed.
The Arizona Senate has hired four out-of-state firms to carry out the audit, which are Wake Technology Services, CyFIR, Digital Discovery, and Cyber Ninjas. Cyber Ninjas, a Florida-based cybersecurity company, is leading the audit.
The Arizona Senate said that its "broad and detailed" audit "will validate every area of the voting process" and includes, but is not limited to, scanning all the ballots, a full hand recount, auditing the voter registration and votes cast, the vote counts, and the electronic voting system. This includes examining some 2.1 million ballots, as well as voting equipment that includes 385 tabulators.
Bennett told The Epoch Times on Monday that the audit may last longer than originally planned. An analysis of the equipment used in the 2020 election was completed over the weekend, but reviewing other materials will need more time, he said.
President Joe Biden was the first Democratic presidential nominee to win Maricopa County in decades.