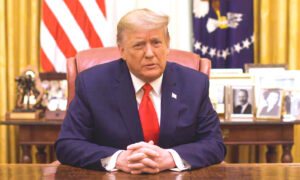 Former President Donald Trump reacted to Facebook's move to uphold the suspension of his account, arguing that Big Tech firms are working to censor Americans.
"What Facebook, Twitter, and Google have done is a total disgrace and an embarrassment to our Country. Free Speech has been taken away from the President of the United States because the Radical Left Lunatics are afraid of the truth, but the truth will come out anyway, bigger and stronger than ever before," Trump said in a statement on Wednesday after Facebook's Oversight Board handed down a decision saying the former president's account should be suspended.
The board, however, suggested that Trump's ban should not be permanent and found Facebook's indefinite suspension inappropriate. It asked the Menlo Park, California-based company to review the decision and come up with a "proportionate response" that is aligned with Facebook's rules.
Facebook's Oversight Board explained its rationale to keep the suspension in place by alleging that Trump "created an environment where a serious risk of violence was possible." Facebook and Twitter both banned Trump in the days after the Jan. 6 Capitol breach
"The People of our Country will not stand for it!" Trump also wrote Wednesday. "These corrupt social media companies must pay a political price, and must never again be allowed to destroy and decimate our Electoral Process."
On Tuesday, Twitter CFO Ned Segal said that Twitter—where Trump had amassed about 90 million followers and used the platform with devastating efficacy—would keep the former president's ban in place permanently.
Saying there had been "no changes" in Twitter's policy regarding Trump, Segal said that "we want to work hard to be consistent."
"We don't have an oversight board like that [like Facebook]. Our team is accountable for the decisions that we make. There is no changes to anything we have talked about in the past," Segal added.
Trump's suspension from Twitter, Facebook, Amazon, and Google platforms drew the ire of conservatives, free speech advocates, and some world leaders like Mexican President Andrés Manuel López Obrador as well as German Chancellor Angela Merkel.
"I don't like anybody being censored or taking away from the right to post a message on Twitter or Face(book). I don't agree with that, I don't accept that," López Obrador said in early January. He argued that social media companies have outsized power to control discourse.
"How can you censor someone: 'Let's see, I, as the judge of the Holy Inquisition, will punish you because I think what you're saying is harmful,'" López Obrador added. "Where is the law, where is the regulation, what are the norms? This is an issue of government, this is not an issue for private companies."
The Epoch Times has contacted Facebook for comment.