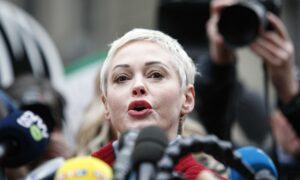 Commentary
We all know speaking against the grain of political orthodoxy is daunting. Pressure to conform comes from all social and institutional corners, leaving many feeling like thought criminals going along to get along in an age of conformity. When friends, family, and even livelihoods hang in the balance, it often feels as though one has everything to lose.
As radical activism and ideological extremity run rampant, it can be hard to believe that a silent majority of Americans actually dissent. Upwards of 80 percent (pdf) think political correctness has gone awry, and 64 percent would even go as far as to call cancel culture a threat to their freedom.
Though society's loudest voices and squeakiest wheels dominate the conversation, dissenters have more teammates among them than they realize. Most rational and reasonable people recognize the excesses of our present political moment, yet they toe the line to maintain themselves and are rendered a silent mass of dissidents.
But it only takes one brave voice to break the dam. We saw it just last month in New York City's elite preparatory schools. First, Andrew Gutmann, a father of a student at the Brearley School, sent a scathing open letter to the community denouncing the politicization and racialization of his daughter's education. "Someone had to do it," he said.
On the same day, Grace Church High School math teacher Paul Rossi penned an article railing against his own school's radical curriculum and backed up his accusations with tapes of shocking conversations with the headmaster. Gutmann and Rossi risked their professional and social standings to speak out on principle, but they found a national outpouring of support when their protestations both went viral.
It only takes one individual to pull the veneer off the status quo. I know it myself from my experience of being outspoken on my own campus. Being an honest exponent of principles has brought a satisfying sense of authenticity. It also sparked an unexpected flood of validation from others. People came out of the woodwork to express solidarity—often times individuals I would never have expected.
From celebrity mavericks such as Rose McGowan to even just a modest young voice like my own, dissent on any scale can reveal a silenced plurality just waiting for someone to give them an opening. There is power—and a social safety net—in numbers. A single bold dissident can pave the way for more voices.
But perhaps the greatest case for speaking out is to fortify the integrity of the next generation. The youngest among us have been raised in a highly politicized world. From cartoons to classrooms, the dominant orthodoxy is constantly reinforced, and the expectation of conformity is made abundantly clear. Young people only know a graceless society characterized by a zero-tolerance cancel culture.
The next generation is being raised to operate like little politicians, carefully watching their words for fear of breaking rank and being ostracized. Childhood has been politicized—but it's meant to be a life chapter of mistakes and personal discovery. We have a societal obligation to extend grace to the next generation.
So, lead by example. Resist the urge to conform. Speak out on account of your principles and in defense of truth. Show others—and especially young people—that standing up is not only possible but also tremendously rewarding. Be a champion of open, honest, and authentic expression. After all, it only takes one voice to start a conversation.
Rikki Schlott is a writer and student based in New York City. As a young free speech activist, her writing chronicles the rise of illiberalism from a Generation Z perspective. Schlott also works for The Megyn Kelly Show and has been published by The Daily Wire and The Conservative Review.
Views expressed in this article are the opinions of the author and do not necessarily reflect the views of The Epoch Times.