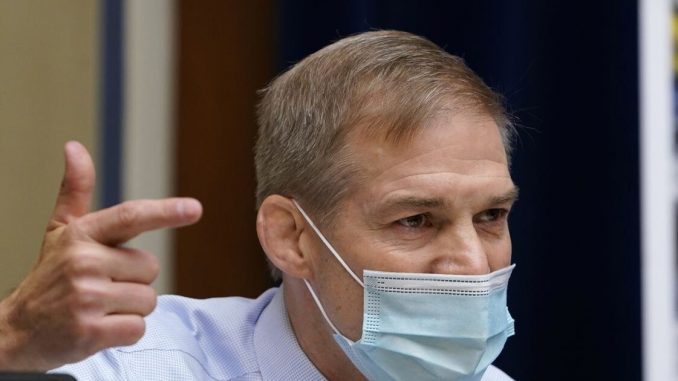 OAN Newsroom
UPDATED 8:02 AM PT – Wednesday, May 5, 2021
Republicans in the House Judiciary Committee are taking the FBI to task over further abuses of the FISA warrant process. The domestic intelligence and security service is coming under immense scrutiny, yet again, for abusing their authority to conduct electronic surveillance.
On Tuesday, Rep. Jim Jordan (R-Ohio) and Rep. Andy Biggs (R-Ariz.) sent a letter to FBI Director Christopher Wray asking him to detail the history of abuses. They cited a foreign intelligence surveillance court opinion released last month, documenting 40 instances where the FBI sought surveillance for matters unrelated to national security.
🚨 #BREAKING: @Jim_Jordan and @RepAndyBiggsAZ demand information from FBI Director Christopher Wray on the bureau's illegal spying activities. pic.twitter.com/vokLkSR7BE

— House Judiciary GOP (@JudiciaryGOP) May 4, 2021
Instead, the court said they used their power to investigate health care fraud, violent gangs and public corruption and bribery.
"The Obama-Biden administration used the FBI to target President Trump's campaign and now they are looking at ways they can spy on all of us," stated Rep. Jordan. "We need hearings, let's see if the Democrats will do it."
This comes more than one year after Department if Justice Inspector General Michael Horowitz released a scathing review of the FBI's role in Operation Crossfire Hurricane. Horowitz found the FBI erroneously filed warrants to surveil several staffers to President Trump's 2016 campaign including the president's former foreign policy adviser Carter Page.
"We found, and as we outlined here, are deeply concerned that so many basic and fundamental errors were made by three separate, hand-picked investigative teams on one of the most sensitive FBI investigations after the matter had been briefed to the highest levels within the FBI," stated the Inspector General.
Additionally, the FBI is continuing to weaken its reputation with the American public with their recent raid of Rudy Giuliani's residence. Agents gloated a warrant reportedly seeking all electronic evidence in Giuliani's possession as part of a federal investigation into the attorney's alleged ties to Ukrainian officials. However, they wittingly refused to take hard drives allegedly belonging to Hunter Biden, which Giuliani said proves his and his father's corrupt dealings with foreign governments.
In the meantime, Rep. Jordan and Rep. Biggs are asking FBI Director Christopher Wray to explain why the FBI keeps making mistakes regarding FISA warrants and how many of their applications have nothing to do with national security. They are also asking Wray what steps the FBI is taking to correct their mistakes.