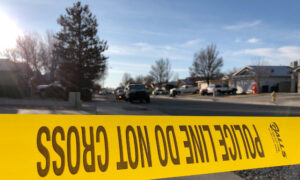 Authorities arrested two men in connection to a gunfire exchange at a 7-Eleven in Texas that has left three people seriously injured, police confirmed Tuesday.
The shooting happened at about 4:45 p.m. on Tuesday in the parking lot of the convenience store located at the intersection of State Highway 121 and Grapevine Mills Boulevard.
The incident involved two men in a black Dodge Charger and two men in a white Nissan Altima, the Grapevine Police Department said in a statement, noting that investigators believe men from both vehicles fired weapons after recovering two firearms and narcotics at the crime scene.
Police said following the exchange of gunfire, both parties drove off in opposite directions. The Dodge stopped across the street in the Jack in the Box parking lot while the Nissan continued on towards Freeport Parkway, toward Dallas-Fort Worth (DFW) International Airport.
"Grapevine Police arrived at the Jack in the Box and discovered two men in the Dodge with gunshot wounds," Grapevine police said.
"One officer used his tactical medical kit to render aid to one of the victims and slowed his bleeding until paramedics arrived," they said. "Both victims were transported to Baylor Scott & White Medical Center-Grapevine with serious injuries."
Officers started a perimeter search in the area as the victims were transported to the medical center. The search was assisted by officers from Coppell, as well as K9 units from Grapevine, Frisco, Prosper, and Hickory Creek.
About 45 minutes later that day at about 5:30 p.m., a man told a police officer at DFW Airport the passenger in his car had been shot multiple times, police said. The passenger was taken to the hospital, while the driver was detained for questioning.
Investigators determined the two men near the airport were involved in the shooting at the 7-Eleven.
"The driver of the Nissan was arrested for Deadly Conduct and transported to the Grapevine Detention Center," the department said. "One of the men in the Dodge was medically cleared and transported from the hospital to the Grapevine Detention Center."
Criminal charges for those involved are pending as the investigation is ongoing, police said. The identities of the suspects will be released after their arraignment.
Additional arrests and charges are possible.
From NTD News