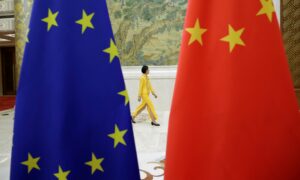 The European Commission has parked efforts to ratify a controversial investment deal with China, after tit-for-tat sanctions imposed over human rights abuses in the Xinjiang region, the EU's top trade official said on May 4.
"We now in a sense have suspended … political outreach activities from the European Commission side," Valdis Dombrovskis, EU trade commissioner, told French news agency AFP on Tuesday.
The deal, commonly known as EU-China Comprehensive Agreement on Investment (CAI), was agreed in principle last December after seven years of negotiations with the last push by German Chancellor Angela Merkel.
To pass, the CAI needs to be approved by EU councils and the European Parliament, where it faces massive opposition.
"It's clear in the current situation, with the EU sanctions in place against China and Chinese counter-sanctions in place, including against members of the European Parliament [that] the environment is not conducive for the ratification of the agreement," Dombrovskis said.
On April 28, more than 30 Members of the European Parliament (MEP) warned that the deal would have to be "put on ice" until the sanctions were lifted.
In March, the Chinese regime imposed sanctions on ten EU citizens, including five MEPs, claiming "gross interference" in its internal affairs, and for "flagrantly violating international law."
The move was in retaliation to the EU's first sanction on China in more than 30 years for human rights abuses against the Uyghur Muslin minority, including on four regional and party representatives and an entity in Xinjiang province. More than a million Uyghurs are being detained in concentration camps, defined by the communist regime as "vocational training schools."
An EU spokesperson said that Beijing's sanctions targeting members of the European Parliament are "unacceptable and regrettable" in a statement, reported the South China Morning Post.
"The agreement needs to be now legally reviewed and translated before it can be presented for adoption and ratification. However, the ratification process of the [deal] cannot be separated from the evolving dynamics of the wider EU-China relationship," according to the statement.
French MEP Nathalie Loiseau said the Commission was being realistic.
"The Commission is taking note of reality: the European Parliament is not ready to ratify a deal with China that still has room for improvement and in such a clearly negative climate," she wrote on Twitter.
Belgium MEP Guy Verhofstadt wrote on Twitter, "Rightly so! We need a balanced relationship [and] modus vivendi with China."